Old Winchester: read the tale of a modern British cheese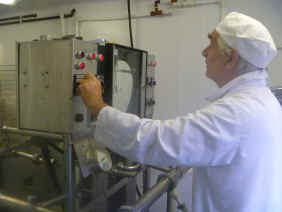 One cheese-making course and 11 years of hard work have enabled Mike and Judy Smales (of Lyburn Farmhouse) to create one the finest modern British Cheeses around: Old Winchester Cheese.
It all started when yet another drop in the milk price meant that producing liquid milk was becoming un-economic. Maybe, they thought, it would be more cost-effective to make cheese with their milk?
Not having a clue about cheese production they went on a 3-day cheese-makers course with renowned cheese consultant Val Bines. One of the last surviving graduates of the good old British dairy colleges, Val occasionally steps out of retirement to consult and teach. If there's one thing Val knows, it's Cheddar, and consequently this course mainly revolved around producing Cheddar (and a few other territorial cheeses).
So the Smales left Val's course with their basic cheese-maker certificate and returned to Lyburn Farmhouse in 
Hampshire to have a go at making cheese. Here they bought a porta-cabin and equipped it out with rough bits of kit to make cheese.
But Mike didn't want to make Cheddar because on the doorstep of Somerset there are already lots of good quality traditional Cheddar makers. He wanted to make something unique in the British market that would give him a point of difference. So he located a Gouda recipe and they set about following it… But with only the recipe and 3 days instruction on cheese-making things got confused. They'd combined the Gouda recipe with some of the Cheddar cheese-making techniques they'd learnt from Val. But all was not lost! A new cheese was born! – Lyburn Gold.
The problem was the West-Country locals weren't used to this supple creamy cheese. They were used to Cheddar and wanted something harder and more yellow, so Mike aged it to 9 months and called it Winchester (after the nearby town). But no, the locals still weren't satisfied. Finally, Mike appeased the grumpy locals by ageing the cheese to older than 16 months, and calling it Old Winchester. And so this brilliant modern British cheese was created, with the sweetness and crystallisation of Gouda, a nuttiness and textural snap of Cheddar and a faint, smoky whiff of Parmesan about it.
Of course Old Winchester has slightly evolved since then to be what it is today. For the last seven years the cheese-making has been under the guidance of talented cheese-maker, Paul Thomas. He first tasted Old Winchester on a cookery course in Bath and thought: I have to make that cheese!
With his biochemistry background, Paul has taken Old Winchester from strength to strength, improving and tweaking the recipe – whilst also developing Stoney Cross, a supple, mould-ripened cheese, similar to Tomme de Savoie, to add to the Lyburn fold. It is this cheese that cheese affineur friend of the Smales, James McCall has used to create Francis – winner of Britain's best new cheese 2012. Francis is The Courtyard Dairy's guest cheese for May, find out more about it here.
Mike still gets up early to help milk his 180 Holstein Friesian cows (which for the last 10 years have been breed – and fed – to produce quality milk for cheese production). He then sits over his ancient pasteuriser like a mad scientist – twiddling dials and knobs until it's working and 2100 litres can pump through to go to the vat where Paul patiently waits. (Mike didn't used to pasteurise the cheese but frequent scares with TB meant he had to, in order to secure his livelihood.)
Paul then adds 'starter bacteria' and stirs before adding vegetarian rennet (the cheese makes a great
vegetarian equivalent to Parmesan). Once the curd is set, it is cut into cubes and washed with warm water. The washing process comes from Gouda production and creates the sweetness in the cheese (for the technical few it 'washes away' the residual lactose, which would normally be converted into lactic acid, thereby controlling the acidification). The curd is then moulded and pressed.
This gave Mike time to take us to the Royal Oak pub down the road: as far as I could see it seemed to be the official distributor of Mike's cheeses – it's food menu consisted of different Lyburn cheese platters. If you're ever in the New Forest do pop-in!After the cheeses have been pressed they're brined (in salt) before being covered with a breathable plastic skin and aged for more than 16 months to become Old Winchester.
A truly unique and quality cheese, created by a bit of chance, luck and a lot of effort and hard work with a focus on quality from milk to sale. This makes Old Winchester a pleasure to sell and multi-award winning (Mike's proudest moment is apparently when his cheese won Reserve Champion at The Bath and West Show – a traditional Cheddar maker's bounty).
Interesting fact: Mike is actually one of the biggest squash producers in the UK and the majority of his land is used for that, which goes into Riverford and Abel and Cole vegetable boxes.
Also many top chefs love to use Old Winchester as a vegetarian Parmesan as it has that strength of an aged Parmesan but is made with vegetarian rennet.
Buy Old Winchester Cheese online from The Courtyard Dairy here.
Related Articles