What makes Dorstone goats' cheese so special?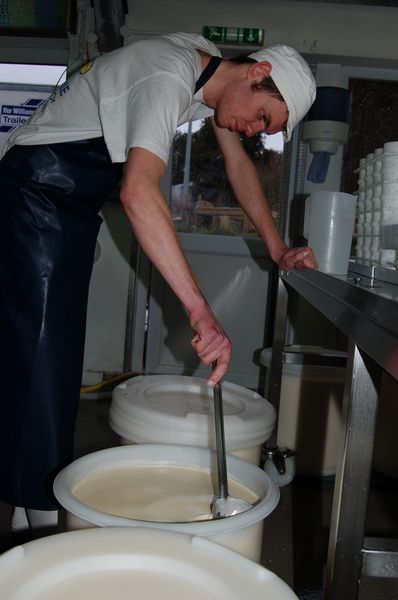 From the start of The Courtyard Dairy Dorstone goats' cheese was chosen to be a regular on the counter out of more and more great goats' cheeses now being made in the UK.
I often get asked how we choose the cheese range at the Courtyard Dairy, and firstly it has to sit into our ethos: supporting small independent farmhouse producers and cheeses (often unpasteurised) that are traditionally handmade, with a natural rind.  We try to source as local as possible but keeping alive traditional farming and 'proper cheese' is paramount.   At The Courtyard Dairy we champion ourselves in taking these young cheese that shows potential and refining (ageing) them to only sell them when they are at their peak of their potential flavour.
That's is because key to it all is taste, every cheese has to taste amazing, part of the shop service is to encourage customers to taste before they buy so each cheese has to stand alone and have a great flavour.
Dorstone fits perfectly into this bill.  Made in Herefordshire's Golden Valley by extremely talented cheesemaker: Charlie Westhead, his creamery sits
atop of Dorstone hill (hence the name), where they make several cheeses, and a brilliant Crème Fraiche (read more about their creamery and how they got into cheesemaking at this blog: All about: Neal's Yard Creamery)
Charlie is perhaps most famous for making the iconic British goats' cheese: Ragstone.  Dorstone was added to their range in the early 2000s.  Made to a traditional French recipe, it is a particular favourite at The Courtyard Dairy as it has a delectable, mousse-like texture, with refreshing lactic acidity with gentle, yeasty and herby notes.  Unlike some goat's cheeses it is also not overly aggressive in the goat flavour.
This delectable texture and flavours come from how Dorstone is made: first prime quality raw (unpasteurised) milk is sourced fresh from the goats at a Richard Barter's nearby farm across the border into Gloucestershire.
For Dorstone cheese, a minimal amount of traditional liquid 'starter bacteria' and (later that day) kid goat rennet is added to buckets of warm milk (Charlie likes to use kid rennet as he thereby creating a product which is truly 'goats', believe it or not, this is relatively rare as most producers use calf or vegetarian rennet!).
The goats curd then sets very slowly overnight – being a lactic cheeses this means the milk acidifies slow over a long time (often 24 – 48 hours) but to a very high acidity set (unlike that of Cheddar/Cheshire which can be acidified in a matter of hours).  It is the classic many French soft and fresher goats milk are made – this slow process helps produce a better curd, and a rounder flavoured lactic cheese.
Next morning the curds are ladled to pre-drain gently in large open bags, before being mixed with salt then packed into moulds, this gives Dorstone cheese it's light fluffy texture and gentle acidity (many other cheeses, including Ragstone are ladled straight into the mould).
After 24 hours of draining the Dorstone goats cheeses are removed from their moulds and rolled in edible charcoal ash, giving Dorstone it's bluey grey exterior.  A traditional French technique it was originally used to keep the flies off, but nowadays serves two purposes: appearance (a stark contrast to the brilliant white of the goats milk), and it helps to dry out and de-acidify the rind.  This means the next stage of moulds and bacteria can populate the rind.  On Dorstone the wrinkly rind forms thanks to a yeast called geotricuim, naturally present in goats milk it helps produce yeasty, herbaceous and nutty flavours, as well as break the cheese paste down.  (Taste it separate to the paste – you may get a yeasty, bread doughy note).
After this it goes into the drying room where it sits next to Ragstone in the same drying room – it is here where it picks up the white spots on the base of the Dorstone.  Ragstone is a white moulded goats cheese and the moulds added to that cheese cross populate across the drying rooms and grow on the Dorstone, helping to add flavour.
After two weeks the cheeses are firm enough to transport so are sent to The Courtyard Dairy.  Here we will dry them out for a further week to stabilise the rind, before ageing them so they have a rich depth of flavour yet retain their fresh, mouse like texture that makes them so wonderful.
Oh and how does it compare to the goats' cheeses of France, well much to the Loire valleys finest goats cheesemakers chagrin in 2013 Dorstone won the Gold Medal at the French Cheese Awards 'Mondial du Fromage'.  There was much gruff sighing and hunched shoulders, apparently….
Do also look out for other brilliant goats cheeses being made in the UK including Tymsboro, Stawley and Innes – they can be found at great cheese shops like Neal's Yard Dairy, Cartmel Cheeses, George Mewes, Paxton and Whitfield….
Hopefully one-day there will be lactic goats' cheese milk being made in the North of England good enough to sit alongside the very fine Dorstone too….
Buy Dorstone and Finn from The Courtyard Dairy's online cheese shop.
Related Articles