Choosing the right cow breed: a case study of Low Riggs Farm, North Yorkshire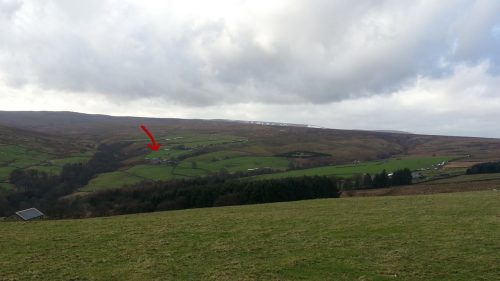 When Andrew and Sally Hattan took over the tenancy of run-down upland farm Low Riggs Middlesmoor, Nidderdale, in 2007, their goal was to create a farm that cared for the land and was financially sustainable in the long run.
The first task was to rebuild the farm landscape and infrastructure with help from a Natural England stewardship grant. 2000 metres of dry-stone walls needed much repair, several hectares of ghyll woodland needed restoring and the upland hay-meadows needed re-planting – re-populating as they would have been with traditional and diverse breeds of grass, herbs and clover. The final part of the stewardship grant, and providing a significant contribution to the restoration this upland farm, is a requirement to keep a stock of native-breed cattle.
But first they had to decide which cattle to choose. Andrew and Sally wanted the farm to be financially sustainable long-term so it had to be a breed that made business sense. Being a rural upland farm, high in the Yorkshire Dales, Low Riggs has poor access (it is a long distance from 'civilization' and main roads), tough terrain, long winters, a short growing season and high rainfall.
They were looking, therefore, for animals that could cope with the tough terrain and not require a high level of intensive feeding (the farm's land simply couldn't produce the high quality forages or cereals that are used to feed modern, high-yielding dairy cow breeds). The isolated location and difficult access also meant that to bring in the supplementary feed (such as cow cake) that is often needed for modern breeds would be too expensive and hard to achieve during the winter.
Andrew and Sally therefore decided to source a breed of cow that would be suited to the rugged landscape and 'modest' forage available; a breed they could keep in low numbers, was robust, flexible, long-lived and would not need much additional care and feed.
Secondly, the breed should be dual purpose – giving both milk and meat. Logic suggested they should investigate what their farm and others locally were keeping 50+ years ago, before modern high-yielding dairy cows and appropriate food supplements became available.
Northern Dairy Shorthorn cattle were quickly identified as the breed of choice. Being bred to thrive on the uplands, they seemed ideal. A very rare breed of cow, choosing this breed also helped to tie into the Hattan's goal of recreating a traditional upland farm – non-intensive agriculture, looking after the land for the future. Keeping this breed in this remote isolated area also meant that should disease (e.g. TB / Foot and Mouth) hit other areas of the country where the Northern Dairy Shorthorn breed is kept they would hopefully not be affected and keep the breed alive.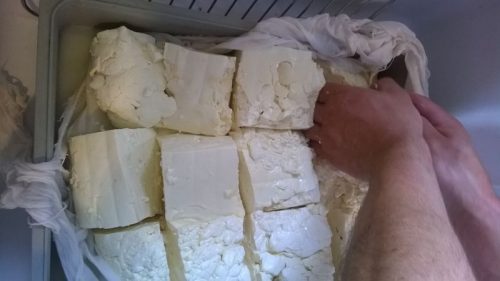 Coincidentally Northern Dairy Shorthorns produce quite a rich milk, which traditionally had been used in the north to make a blue, crumbly cheese. The next stage of the Hattan's quest to make Low Riggs Farm sustainable is, therefore, to create from their herd's rich milk a unique cheese that echoes those traditions and 'showcases' the tough upland pasture, species-rich hay meadows and Northern Dairy Shorthorn milk. Development is ongoing, but the first 'Stonebeck' cheeses are now available to buy [click here].
As Andrew says, "If a food product is expected to express 'terroir' (conveying the uniqueness of the area where it is made) the best chance of achieving this for our cheese is to use milk from the breed of cattle that is traditional to the area and thrives on the land, grazing on what grows naturally in the area."
Try Andrew & Sally's cheese: Stonebeck here >.
Find out more fascinating facts about cheese – simply sign up to The Courtyard Dairy monthly newsletter for regular exciting offers and interesting info. from the cheese-world. Sign up here.
Related Articles