Gloucester cheese rolling – my experience
One to be ready. Two to be steady. Three for the cheese. And four to be off. And we were off. I scrambled, slipped, skidded and somersaulted my way 200 metres down a steep drop (48%, nearly 1:2) over rocks and through nettles after an eight-pound piece of cheese.
Mad? Yes. Stupid? Yes. Fun? Hell, yes!
On a dark damp day in May I'd risen early to drive to Coopers Hill, Gloucestershire. Every year on the last Monday in May hundreds of nutters gather here, to keep up a centuries old tradition of chucking a piece of cheese off the hill and running as fast as you can down after it; chasing the cheese. The original Gloucester cheese-rolling contest.
The event is steeped in history; some claim it was an event even before the Romans arrived. Many think it was part of the Pagan Harvest Festival. Either way people have been chasing down that hill for at least 200 years, in a celebration of the eccentricity, weirdness and wonderfulness of rural British life.
The earliest written recording of the Gloucester Cheese Rolling is in 1826, and its been documented ever since: who the loonies were, who won, and who supplied
the cheese.
Since 1988 the cheese has come from Diana Smart, a local farmhouse cheese-maker. Now well into her 80s, she still makes, by hand, the traditional 8lb Double Gloucester cheese to roll down the hill.
But this year trouble was a foot. An over-attended event in 2009 had meant serious health and safety concerns. 2010 had been cancelled and the organisers decided that to continue the event had to change. They came up with a two-day £20 a head ticketed event. Locals and followers were furious, and took out their anger with verbal and written attacks on a voluntary and much harangued committee.
Enough was enough. The event was cancelled and the committee disbanded. Coopers Hill would be the home of cheese rolling no more.
Would this tradition die forever?
But a rumour started, a word, a whisper. And a massive sign on the hill, "Cheese Rolling May 30th, Noon". Mrs. Smart reported, "The usual people are having some cheese. I expect it will be Monday that they use it."
On the basis of this rumour, I got up on this dank and dreary day and drove across Gloucestershire. I knew when I'd arrived. Police were blocking all entrances to get to the hill. We'd have to go the long way round, climbing over fences and traipsing through fields.
We reached the hill. Pictures, whatever the quality or angle, cannot tell the true story of the steepness of the hill towering over me. All of a sudden the jitters hit me. All those videos of it watched on YouTube came back to me, with their warnings of spinal injures, broken bones and dislocated joints. I didn't want to be stretchered off this hill…
I climbed to the top to get a better view. Just as scary if not more. Slowly but surely dribs and drabs of more people arrived. Including Chris Anderson, eight-times champion. His missing teeth tell it all. Bottle of blue WKD in hand, he tests the ground. Slippy today.
In fact at the top of the hill he's not the only one taking the obligatory Dutch courage by the bucket load. It may be only 11am, but a local tells me you have to be drunk to be mad enough to run down the hill.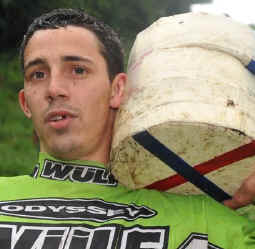 Midday hits. I chicken out. I watch 10 runners leap to certain death as they chase downhill for Diana's Double Gloucester racing ahead of them at 70 mph.
Chris Anderson takes a tumble but wins, easily.
As the second race is about to start, a quick sip of Stella (kindly lent by a nearby local) convinces me I can go for it. I feel I fit into the entry requirements easily: a complete disregard for my own safety.
And off I went, tumbling after the cheese. I stood up for only a very short time before I stumbled, tumbled and fell out of control. Over in seconds and a bit of blur, I didn't exactly cover myself in glory. But I've done it and finished alive. Albeit with a fair few bumps, bruises and scratches.
Chris goes on to win the next two races, taking home three cheeses. Jo Guest wins the female race. Congratulations to them and thanks to all that organised and keep alive this glorious English tradition.
I'm cold, I'm tired, I'm wet, I'm aching and I'm knackered. But I'm happy.
Related Articles