Historical cheesemaking: Dora Saker, the Ministry of Agriculture & my Great Gran
Frayed at the edges and cracking at the seams, the faded brown book almost fell apart in my hands. Somehow I'd managed to get my hands on this fast-becoming-sought-after bible in the cheese-making world: Dora Saker's "Practical Cheddar Cheese-making" (pub. 1917). The only other versions I've seen are in the hands of Sam Holden (see Blog 27) and the one sorrowfully sitting on Amazon marketplace for £225.
I've been hearing more and more about this book in whispers picked up from champion Cheddar makers to the diligent dairy consultant, Ivan Larcher.
Dora Saker was an instructor of cheese-making for the Somerset County Council and wrote the book to cover all the aspects of Cheddar cheese-making, from recipes and soil types to equipment and grading. Her book raises the question of what is traditional cheddar cheese-making nowadays? The farmhouse Somerset producers all follow what we envisage to be traditional recipes, yet Dora's notes are quite different.
It illustrates how daily organic tweaks in recipes and techniques
over the years (95 in this case) can lead to massive changes: upon seeing the picture of long lengthy curds draped over the mill in Dora's book, Mrs Montgomery* remarked, "that was how it was".
Dora Saker's book isn't the only age-old advice available. As the technology of cheese-making moves forward, cheese-makers continue to look back. Ancient cheese-making books are being snapped up: from the 1930's 'Ministry of Agriculture Fisheries and Food Bulletin on Cheese-making' to 'The Practice of Soft Cheese-making' (C. W. Tisdale, 1903).
My Granddad recently handed me my Great Grandma's cheese-making notes from 1912 (she was a Dairy Maid at Windsor Castle). Once I've deciphered them: watch this space!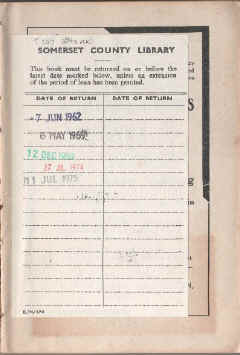 All this advice isn't being wasted: after Dora Saker's book was re-discovered by Randolph, he's been encouraging Cheddar makers to experiment with Dora's fabled advice: slowing down the make and using methods like pre-ripening the milk, altering cutting times/methods and how the curd blocks are stacked (the results of which we'll hopefully see soon from Holden Farm Dairy).
Other cheese-makers are tinkering too, and seeing significant improvements in their cheese: Graham Kirkham is using his Mother's old make notes and pictures from yesteryear, and Westcombe dairy have reverted their Caerphilly recipe to 1936 Cannington college notes and make sheets that belonged to Chris Duckett's mother.
You may be wondering where I got my copy of Dora Saker's book? Well it didn't cost me £225 that's one thing for sure! I checked my local library, and … thank goodness I live in Somerset: there it sat unloved and forgotten on the shelves, the last time it was withdrawn was 1975!
Getting my hands-upon a frayed ancient cheesemaking book by Dora Saker was the start of my investigations into ancient cheesemaking techniques… more to follow.
* Taken from Randolph Hodgson's obituary to Mrs Montgomery in SCA Circular September 2010.
Related Articles