Pigs milk cheese developed in North Yorkshire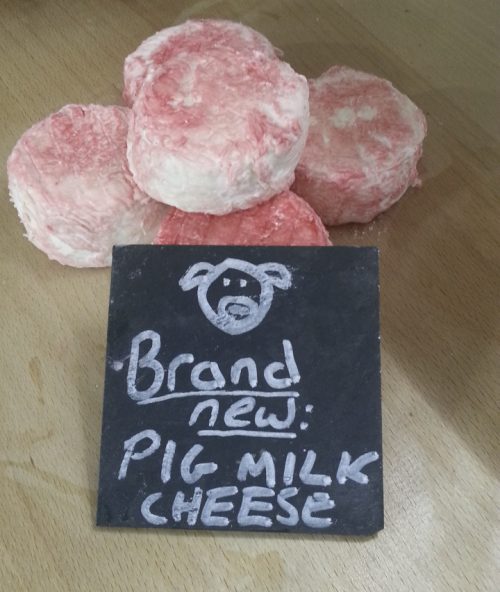 Over the last few months local North Yorkshire business The Courtyard Dairy and Blue Pig Company have teamed up to develop a brand new cheese: one made from pigs milk!
Andrew Bradley, owner (with his brother, Anthony) of The Blue Pig Company was thrilled to see a new outlet for his farm produce "we used to be dairy farmers but re-stocked with rare Gloucester Old Spot / Saddleback crossed pigs after foot and mouth.  We were just using them to produce bacon, hams and sausages but it's great to be back to dairying and find an outlet for their milk".
The pigs are a nightmare to milk with the female sows not liking human contact and having 8-14 small teats to milk – which in turn only gives a little amount of milk for 15 seconds at a time.  This is perhaps why there is no history of a pigs milk cheese, except for one rare farm in Tuscany.
Yet it has provided worthwhile as pig milk is higher in fat than cow's milk and provides rich interesting flavours which is perfect to make cheese.  Andy at The Courtyard Dairy has teamed up with cheesemaker Haydn Roberts to use their milk and develop a brand new cheese.
After several months development the first cheeses will be released for sale today, "we were really chuffed with the outcome," Says Andy, "the pigs milk was difficult to get to coagulate (form a curd) initially but over the last few months we have managed to get to a stage where we can produce a really good cheese from The Blue Pig Companies milk – and it tastes really amazing!"
The small individual cheese, weighs 150g and is soft and creamy, taking on a pinkish hue from the pigs milk with a intense game-y flavour.
Available to buy from today, so if you want to buy pigs milk cheese – pop down to The Courtyard Dairy in Settle for a try!
Find out more fascinating facts about cheese – simply sign up to The Courtyard Dairy monthly newsletter for regular  exciting offers and interesting info. from the cheese-world.  Sign up here.
Related Articles