Richard III Wensleydale cheese – what makes it different?
As you know, The Courtyard Dairy is based in good old Yorkshire.  So it's essential that you'll find a really good Wensleydale cheese there.  Which, of course, it is, and both online and in the shop at Settle, King Richard III Wensleydale is a firm favourite.
But why does The Courtyard Dairy stock Richard 3rd Wensleydale??
The reason is twofold: firstly the producers of Richard III Wensleydale, Fortmayne Dairy, are a much smaller outfit, and thus fit more closely with the ethos of The Courtyard Dairy to support smaller, independent producers.  Secondly, Richard III Wensleydale is just a bit different from what many people expect of a Wensleydale.  Modern Wensleydale recipes tend to produce a very crumbly, sharp and fresh cheese.  Richard III is moister and creamier in texture, with a milky, light, fresh tang.
In the early 1990s, Suzanne Stirk, who started Fortmayne Dairy, found in her attic an old traditional
pre-war recipe for Wensleydale, belonging originally to her Grandmother.  Noticing that the recipe was for a cheese that wasn't made quite as 'fast', crumbly or acidic as normal Wensleydale, she decided to re-create it.  Being based at Middleham at the time, which was the childhood home of Richard III, Suzanne decided to call the cheese Richard 3rd Wensleydale; this also served to distinguish it from the majority of Wensleydale made at Hawes Creamery down the road.
In late 2011 Suzanne retired and Andy Ridley, who was working for Suzanne at the time, took over Fortmayne Dairy.  He moved the dairy production to Sandhams, where Richard III Wensleydale is still made every day.
At The Courtyard Dairy, Richard III Wensleydale is sold when it reaches two-months old.  Wensleydale cheese was originally invented to use up excess milk from smallholdings and be eaten in the fields by farm hands, so it is not a particularly high gastronomic cheese, but at this age Richard III is a lovely, light cheese that is perfect for a Ploughman's Lunch or served with fruit cake and apple pie.  The sweetness of the cake or pie and the freshness of the cheese complement each other perfectly.  As the old Yorkshire saying goes, 'apple pie without cheese is like a kiss without a squeeze'.
When people visiting the shop have a taste of Richard 3rd, they are often surprised to find it is not as sharp and as crumbly as normal Wensleydale.  This raises the question of what is expected of a cheese… at The Courtyard Dairy we explain to our customers that Richard III is a more traditional Wensleydale because it is made to a pre-war recipe.  In other words… it is how it used to be (but see below…).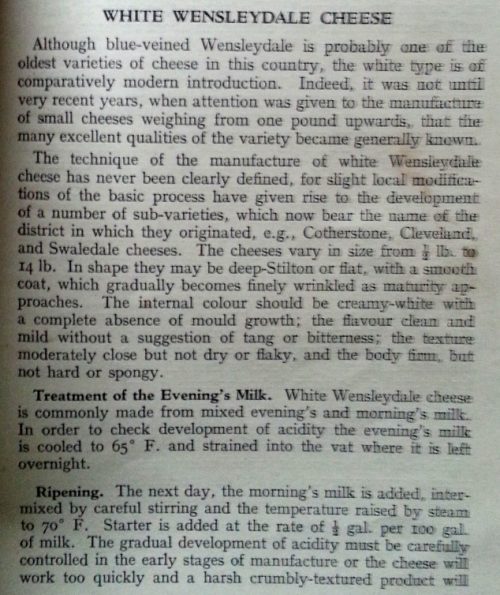 Wensleydale's Hawes Creamery do, of course, make some mighty fine Wensleydales, some of which follow a lighter, less-crumbly, style than their other crumblier versions – look out for their Kit Calvert Wensleydale, which is a lovely cheese.  But beware!  Wensleydale cheese per se is not 'name-protected' and can be made anywhere.  Those labelled 'Real Yorkshire Wensleydale', however, must be made in the dale, using milk sourced from farms within Wensleydale.
It is interesting to note that old books will tell us that, even at the turn of the 20th century, Wensleydale was different again, only known and found locally.  Wensleydale was at that time a blue cheese (it is listed in books i have on cheese grading published as late as 1925 as only a blue cheese – the earliest mention of 'white-Wensleydale' I have is in Ministry of Agriculture cheesemaking guide from 1938, which alongisde blue Wensledyale lists white Wensledyale as a'compatively-modern introduction').
And, even before that, going back a few hundred years, it would have been a sheep's milk blue cheese.  So as times change, so do traditions, and so does what we expect of a cheese…
And here's another example of how an old recipe and traditional methods made a big difference – read here the story of how Hafod re-invented traditional Cheddar.
Buy Richard III Wensleydale online here.
Related Articles
Stilton – the history, origins and present day…
Different Cheese Types – classifying cheese by how it is made
Related Articles