Valentine Day cheese gifts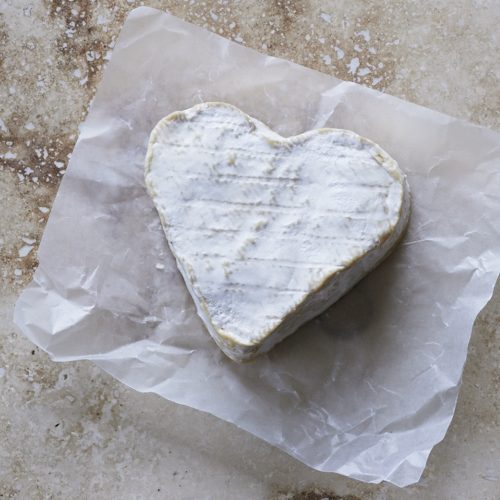 For the unromantic amongst you, heart shaped gifts may seem a bit 'cheesey'.  But surprisingly, there is a strong tradition behind cheese being made in the shape of a heart, a tradition that goes back hundreds of years.
Read more on last years blog: The history of heart-shaped cheese – St Valentine's and Neufchatel cheese
For this year's St Valentine's Day you could keep up this tradition and give the cheese-lover in your life a delightful heart-shaped cheese (or maybe a whole cheese gift box!).  But you don't only have to buy French – thankfully British artisan producers are also producing fantastic heart-shaped cheeses.
Here are some brilliant examples of traditional farmhouse artisan British cheeses that will delight your partner this St Valentine's Day.  Each of these has been specially selected and matured by The Courtyard Dairy, winner of Cheesemonger of the Year at The World Cheese Awards.  The multi-award-winning owners of this specialist cheese shop and cheese affineur have built their business on championing and supporting traditional farmhouse cheese-makers throughout the UK, so you can be sure that the cheese you choose will be of the highest quality, and taste amazing.
Dorstone.
Surely one of Britain's most outstanding goats' milk cheeses.  At The Courtyard Dairy, Dorstone is sold at only three weeks old, young and fresh – at that age the Dorstone still has a mousse-like texture, a lemony-fresh flavour and just a hint of goat.  It's made by Charlie Westhead in Dorstone, Herefordshire, from unpasteurised goats' milk, and specially produced for St Valentine's Day in a delightful heart shape.
 Finn.
A triple-cream cheese, this is a classic of the French Parisian style.  Extra cream is added to the cows' milk before making the cheese, ensuring it has a rich, delectable flavour and wonderfully smooth texture.  It's made from unpasteurised cows' milk by Charlie Westhead in Dorstone, Herefordshire, and is another to be made in a special heart shape for St Valentine's Day.
The St Valentine's Day Cheese Box.
This brilliant balance of cheeses will ensure you have the perfect cheese-board this St Valentine's Day.  The fresh light Dorstone and the rich creamy brie-style Finn are accompanied by Vintage Sparkenhoe Leicester – aged for 18-months, it is powerful and tangy – and some crisp water crackers to nibble.  Click here to view (£21.50). The perfect gift for any cheese-lover!
Of course, if your partner truly loves cheese, you could always make an evening of it:
Tunworth Camembert and The Courtyard Dairy China Baker.
Tunworth Camembert has become a modern British classic.  Twice winner of Supreme Champion at the British Cheese Awards, it's a powerful intense Camembert-style that is so good even an ardent Frenchman would think it was made in Normandy.  You could serve it hot and melting, as a perfect meal for two: simply oven-bake the Tunworth in a Courtyard Dairy special china baker for 20 minutes until it's bubbling and golden, then serve with crusty bread and dip in.  Delicious!
Champagne et du Fromage.
The fresh bubbles of a crisp Champagne match perfectly with the light, zesty creaminess of Brie-style cheeses.  While away a relaxing evening with a bottle of Lallier Pink Champagne coupled with the fantastic St Jude – a creamy soft cheese made on the farm in Bungay, Suffolk, and deliciously-based on the French St Marcellin recipe (which has become a must-have for the gastronomes of Lyon, France's food capital).
Beer and Cheese
Cheese and wine have been enjoyed together for years, but beer and cheese makes for one of the best combinations that you will ever find.  The last twenty years has seen a massive resurgence of both the craft brewery scene and the farmhouse cheese industry: celebrate this wonderful resurrection with a cheese-and-beer-matching session of your own.  Three beers and three cheeses are included, matching IPA with Lancashire, stout with blue cheese, and… well, we'll leave it as a surprise – and you'll be surprised how good they taste together!
To view the complete set of Valentine's Day cheese gifts, click here.
Find out more fascinating facts about cheese – simply sign up to The Courtyard Dairy monthly newsletter for regular  exciting offers and interesting info. from the cheese-world.  Sign up here.
Related Articles