What is an artisan cheese? And what do the words traditional and farmhouse mean?
The Courtyard Dairy's owners like to say that they support traditional farmhouse production and artisan cheese makers.  But what exactly does that mean?
'Farmhouse', 'traditional' and 'artisan' are more recognised as styles of cheese rather than as a method or scale of production.  This blurs the boundaries as far as the consumer is concerned – how can someone be sure they are buying a true artisan product?
Well, true artisan cheeses should be made on a small scale, often using milk from a single herd of animals on the cheese-makers own farm.  They should be made by hand using traditional, methods of manufacture and ageing.  These are often slower and more labour-intensive; they include letting the cheeses form a natural rind or binding the rind in cloth.  They should also have better depth of flavour.
Making a cheese this way on a small scale often means the cheese maker can use unpasteurised milk, because they can control their inputs and they know all their cows.  Using unpasteurised milk can have added benefits in terms of flavour, allowing the cheese to capture the true ambience (or 'terroir') of the farm.  But unpasteurised milk and the differences it makes will be covered in a later blog…
A brilliant example of how making traditional cheese can really mark the difference between farms is to compare the three traditional Cheddar-makers left in Somerset: Keen's, Westcombe and Montgomery's.  No more than eight miles apart as the crow flies, they all make one-year old Cheddar to a 'traditional' recipe as they have for generations.  Each of the three close farms uses unpasteurised milk, cloth-binds their cheese and has similar breeds of cow.  Yet their Cheddars are distinctively different.  After a few tastings, they become easy to tell apart and it's more obvious which cheese came from which farm.  This is the brilliance of properly made farmhouse cheese – it encapsulates that specific farm's unique characteristics and makes a cheese that cannot be replicated, even on the farm next door!
This type of production (traditional, farmhouse) is something the owners of The Courtyard Dairy champion, for several reasons:
Superior quality and taste.  If it's made properly, unpasteurised farm cheeses can have a depth of flavour and amazing taste that cannot be rivalled or copied by industrial production.  Simply put, proper farmhouse cheese tastes amazing!
Unique.  Every single farm makes a cheese different from the next, even if they are following a similar recipe.  The diversity is amazing.  Wouldn't it be wonderful to taste the range of cloth-bound Wensleydales available when there were more than 2000 farms making it in the dale (1900s)?  Each would have been similar, but different.
Sustainable farming.  The artisan method of manufacture goes hand-in-hand with sustainable farming of the land, rather than intensive production.  The animals, often from traditional breeds of cow such as Dairy Shorthorn, Red Poll, Ayrshire, are allowed to roam freely on the pasture.
The makers need supporting.  Their cheeses are rare, and need supporting, to enable them to continue producing.  In Yorkshire there is only one farm left making unpasteurised cheese, in Lancashire the same….
The knock-on effects.  Supporting dairy farmers supports rural economies.  Profits from cheese-making on the small family farms enable them to continue to manage their land and plough back into the business.  Whereas if they relied on selling their liquid milk, the size of the farms, and the low price of milk, would probably mean they would go out of business.
Have a look at these videos for a better idea:
So are the terms 'artisan', 'traditional' and 'farmhouse' protected?
Unfortunately these describing words for cheeses made on this small scale of production aren't protected or legally defined, so anyone can claim they make a 'farmhouse', 'traditional' or an 'artisan' product.  For example Wyke 'farm' Cheddar make 14,000 tonnes of block vac-packed cheese year – combining milk from their own 1200 dairy cows with that from another 150 farms.  Compare that to the 'farm' Cheddar stocked by The Courtyard Dairy: Dale End has only 46 cows and produces just 10 tonnes a year.  Both these Cheddars have their place in the world, but one is farmhouse, made by hand with unpasteurised milk and cloth-bound, the other one is factory-made with pasteurised milk and vacuum packed.  Yet both can be labelled 'farm'.
So if someone wants to support traditional, farmhouse products how do they discern the difference?
The problem is the small producers don't have nice labels, funny names, marketing budgets and salesman on the road getting their product into delis and farm shops.  Often in these shops, therefore, are brands of the big producers that have been positioned to compete in the artisan market against the 'real' artisans.  It's easy to see why experts like Andy Swinscoe at The Courtyard Dairy are invaluable for sourcing just the genuine farm product.
A good cheesemonger like Andy will have sought out these special cheeses and can explain where the cheese came from.  Scratch away at the story the cheese can be traced back to the farm.  And a good cheesemonger will let a customer taste the cheese before they buy, as they might not have heard of it before.
Here are some further tips for picking out artisan cheese:
A natural rind.  Waxed-covered cheeses are often commercially made and won't have the same depth of flavour as a cheese with a natural rind: look for cheeses that have this rind and that are cut fresh from a large whole truckle.  But beware: some cheeses are taken out of vac-pack and put in a cloth right at the end of their maturing, to trick the consumer.
Unpasteurised cheese.  This can only really be made on a small scale because the maker really has to know their animals well.  There are, however, exceptions: the Old Winchester stocked by The Courtyard Dairy is fabulous.  It's powerful, crystalline and strong – made by hand by Mike Smales on his family farm, yet… pasteurised.)
Check the health mark.  The little oval with some letters and numbers in (e.g. PN 012 UK) on the outside of a whole cheese says where it was made or processed.  This can be looked up on the food.gov.uk website (food.gov.uk/enforcement/sectorrules/milkandairy) to determine who actually makes it!
Beware big brands and fancy labels.  Watch out for terms designed to position the product as artisan (e.g. 'cave-aged') – if the cheese has a proper story it'll name the farm and state that the cheese is made in a small vat!
The easy option.  Perhaps the best and easiest thing to do is purchase cheese from reputable cheese-mongers like the Courtyard Dairy, with a similar ethos and outlook: George Mewes, Paxton & Whitfield, Neal's Yard Dairy, Cartmel Cheeses, Cheeseboard Greenwich, Mons Fromages, Buchannans, to name a few.
So go on – search out proper farmhouse British cheese, and try something different and truly unique today!
Find out more fascinating facts about cheese – simply sign up to The Courtyard Dairy monthly newsletter for regular  exciting offers and interesting info. from the cheese-world.  Sign up here.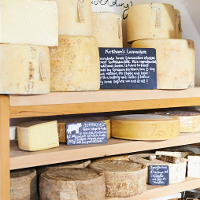 Related Articles