What makes a cheese a Cheddar cheese?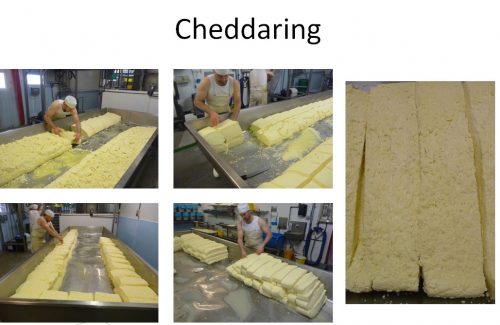 What makes a cheese a Cheddar cheese?
The world's most popular cheese, Cheddar still accounts for over half of all British cheese sales (52%), even though that share has reduced as consumers have become more adventurous in their choice of cheese.
But what exactly makes a cheese a Cheddar cheese?  
Because it's made in Somerset? No, in fact the chances are it wasn't made there – the majority isn't, nowadays!
A nice golden-yellow colour, with a distinctive 'snap'?  Well, not really, because a lot of Cheddars are pale, some are coloured, some are softer in texture…
Because it's strong and savoury?  Again no, because there are mild, young, old, sweeter, and crystallised varieties available.
Because it's made from cows' milk?  Not even that – some makers now sell sheep's and goats' milk varieties!
The simple fact is that Cheddar may be the world's most ubiquitous cheese, but the only thing controlling exactly what Cheddar is, is a 1966 Codex for Trading Standards, which essentially states that Cheddar must be a firm cheese with <39% moisture (in other words, a hard, drier cheese).  And there are proposals from the Specialist Cheese-makers Association to remove even this control (governing many traditional British cheeses, being established after the War to promote drier, longer-lasting cheeses), as that moisture limit seriously restricts how cheeses are made and may in fact prevent cheeses being made in their traditional pre-War way.
Nevertheless, Cheddar cheese does have its origins in Somerset, taking its name from Cheddar Gorge and the market town of Cheddar where cheeses were once matured in the natural caves and sold to tourists visiting the Gorge.  It is said to have been made there since at least the 16th century, though many would claim longer – there are reference dating back to the 12th century (King Henry II was reported in 1170 to be very fond of the cheese, declaring it to be the best in Britain).  But the Cheddar we know today is a comparatively recent invention dating back to the 1800s, when advances in dairy technology and a greater understanding of cheese-making allowed for a more standardised recipe to be adopted, producing cheese of a consistent quality.
So what is this standardised recipe, and how does it make a cheese 'Cheddar'?
One of the key things is the 'Cheddar process', known as' Cheddaring': during the cheese making the curds are cut, formed into blocks, then turned and stacked repeatedly, often by hand.  This acidifies the curd, changing its texture from crumbly lumps to pliable, elastic curd, which gives the finished Cheddar cheese its unique texture.
But there are many modern Cheddar-makers that don't accurately follow this process – two of the most famous farm producers outside Somerset being Isle of Mull and Lincolnshire Poacher, both of which 'dry-stir' the curd rather than cutting it into blocks and stacking.  This gives a similar, if slightly waxier, result.  Both these producers would say, however, that they are not trying to produce'Cheddar' per se – just a take on the Cheddar recipe).
Many industrial producers extrude the cheese once it is matured before waxing it (e.g. Black Bomber, Godminster, etc.) – which loses the texture normally associated with Cheddar and instead gives a softer, creamier product.
The Cheddaring process was one of the key elements that several West-Country cheese-makers decided must be used in order to make Cheddar.  In 1996 these cheese-makers banded together and were granted a 'West-Country Farmhouse Cheddar' PDO, ('Protected Designation of Origin', similar to an AOC in France, such as that for Champagne).  These producers want Cheddar to have "a nutty, round flavour with a hint of sharpness and a firm texture".  But the PDO actually does very little to control proper Cheddar cheese – West-Country Farmhouse Cheddar may or may not be pasteurised, can be block or industrial form, and can be made from milk sourced from the farm or elsewhere.  In fact Quickes, traditional unpasteurised farm Cheddar makers from Devon refused to join the group, and the unpasteurised-cheese makers in Somerset initially joined but after concerns that their cheese is being associated with the Cheddar from larger industrial dairies (which were benefiting from the reputation, but making an industrial cheese) opted out.  So aside from insisting on the Cheddaring process the PDO only really ensures that cheese is sold after being aged for longer than nine months, and that it is made in the south-west of England.
So why is Cheddar made throughout the world?
For lots of reasons: the recipe developed in the 1800s was a cheese-making method that was easy to industrialise and an efficient way to make cheese, so it was adopted by many as the best way to make cheese from milk.  It also can be sold young or old, suffers from few defects or problems and travels well.  The recipe was spread by people leaving the West-Country to go to the Americas and the Antipodes, taking their cheese-making expertise with them, whilst various dairy professionals, such as Joseph Harding who refined the Cheddar-making method, went on to teach the recipe to farmers in Scotland and the New World.
As Cheddar started to be made throughout the UK and world, however, its characteristics changed the cheese evolved in each area.  It's common nowadays to find Cheddar with a creamier texture, and a sweet flavour with 'crystals'.  The majority of Cheddar is industrially made in block vacuum-packed form, rather than individual truckles being cloth bound to allow them to breathe, and is matured quickly in warmer temperatures, producing moister cheeses which often have sharp tang but not as much complexity.  The sweet and crystalline Cheddars are a bit of a bugbear to the traditional Cheddar makers who believe Cheddar should have a savoury flavour (listen here to Jamie Montgomery speaking about this).  The sweet flavour Cheddar is a recent development (in the last 20-years) – and is made using imported Swiss bacteria (such as Helveticus), which gives that characteristic; it's is easier to make, covers up bitter flavours and matures faster.  Many traditional makers tend still to use old strains of bacteria native to Somerset (known as 'pint starters') – these are based on local West-Country microflora and help to provide broad, round savoury flavours with a classic Cheddar tang.
So how can you tell if a Cheddar is traditionally made and comes from Somerset?
Well, there are three Cheddar makers that still make traditional farm Cheddar in Somerset, near to Shepton Mallet and Wells.  It is said that the true home of Cheddar is in Somerset, just south of the town of Cheddar, where the rolling Mendip hills limestone soils give superb grazing.
So what does Cheddar mean to these three traditional Cheddar-makers?
"Artisan Somerset Cheddar has a richly, mouldy brownish-grey rind and an intensely hay-yellow curd.  The texture is firm yet buttery, and the curd has flavours of caramelised milk, hazelnut, and bitter herbs."
Concerned that introduction of rindless block cheeses and frequent use of pasteurised milk was further reducing the unique characteristics of Cheddar made in south-west England, these three last traditional Cheddar-makers grouped together to determine stricter rules than those dictated by the West-Country PDO.  They created a 'Slow Food Presidium' designed to educate people about proper Cheddar, crafted by hand, and made only with raw (unpasteurised) milk from Somerset.  Specifically, the Cheddar must be made in Somerset from raw (unpasteurised) milk taken that day from their farm's own cows, started in open vats with traditional calf rennet, using 'starter' bacteria natural to the area (in the form of 'pint pot' starters) and 'cheddared' by hand, before being formed into rounds of cheese, cloth-bound and matured for a minimum of 11 months.  For them, that's how to make 'proper Cheddar'.
What are these three producers called?
They go by the names of Keen's, Montogmery's and Westcombe, and they are legends in the world of Cheddar.  Only eight miles apart, they all follow a similar recipe, yet their cheeses taste wonderfully different from each other.
But is this really traditional Cheddar?  Is that what they're making?
Any good cheesemonger will tell quote their names when describing traditional cheddar, and say that proper Cheddar should be made from unpasteurised milk, cloth-bound, farm- and hand-made.  That's traditional Cheddar, isn't it?  Hmm, well… even though these three established farms are third, fourth, fifth generation cheddar-makers, making their cheese just like their great-grandparents did, it's not unusual for recipes that are handed down over the generations to be tweaked, changed and altered by successive generations.  So in fact 'traditional' cheeses are often made quite differently from how they would have been made even fifty years ago.
This fact came to light when Dora Saker's Cheddar Handbook (dated 1917) was rediscovered.  Mrs Montgomery was looking through the book and saw a picture of Cheddar curds hanging over a cooler.  "That was how it was," she said.  This prompted Hafod Cheddar to follow this much slower, laborious, Dora Saker method of making cheese in order to recreate Cheddar 'how it was'.  So are Sam and Rachel Holden, makers of Hafod Cheddar in Wales, making an even more 'traditional' Cheddar?
When it comes to the actual cattle from which the milk is sourced, the older books (e.g. Saker, 1913 and Cheke 1954) talk of Ayrshire and Dairy Shorthorn as the best breeds, essential for making good Cheddar cheese.  Some producers still use these breeds and their milk certainly makes a difference to the cheese: Ayrshire milk exhibits a butteriness which especially noticeable in Hafod Cheddar.  Dale End Cheddar, made in North Yorkshire, uses Dairy Shorthorn, Barwheys Cheddar, made in Ayrshire, naturally uses Ayrshire, but none of these three are in Somerset.  Interestingly, the three famous Cheddar-makers use mainly the modern Holstein-Friesian hybrid.
So as producers try to hold on to 'tradition', are they actually succeeding?  In fact, what determines a traditional Cheddar, let alone Cheddar per se?
Can Hafod be more traditional than Montgomery's?  Probably not, even if it is made to an older recipe with a more traditional breed of cow.  What really matters is that both taste amazing, reflecting the hard work and loving care that goes into making them.  Not so long ago Montgomery's was the 'traditional Cheddar cheese' of choice, but whereas farm-made Cheddar was once rare there are a now at least a dozen Cheddar makers throughout the country producing interesting, tasty, unpasteurised farm-made cheddar.  Many do not hail from Somerset, and there are many varieties of recipe, but their cheeses are excellent.  Isn't that brilliant?
So it only remains to answer the question 'What makes a cheese a Cheddar cheese?'
Well, probably no-one really knows.  But hopefully this blog will have encouraged you to seek out cheeses made on the farm in a traditional manner, to celebrate their differences, and hopefully to buy them and taste them.  There's no guarantee that they will be Cheddar as you might expect, but…  what is?
What is guaranteed is that you will be enjoying a taste of something special, unique to where it is made.  'Proper' Cheddar, made by caring professionals on their own farms, using their own herd's unpasteurised milk and naturally rinded.  Here's where you'll find it:
Barwheys (Ayrshire)
Dale End (Yorkshire)
Hafod Cheddar (Lampeter)
Isle of Mull (Argyll and Bute)
Keen's (Somerset)
Lincolnshire Poacher (Lincolnshire)
Loch Arthur (Dumfries and Galloway)
Montgomery's (Somerset)
Quickes (Devon)
St Andrew's Cheddar (Fife)
Westcombe (Somerset)
Winterdale Shaw (Kent)
Seek them out.  Buy their cheese.  Enjoy a taste of Britain.
Watch the 5-minute video of Hafod Cheddar being made, as Sam Holden tells it's story here.
If you haven't a good local cheesemonger, most of which should stock a few, if not most of these cheeses, you can obtain Cheddar from The Courtyard Dairy, George Mewes, Neal's Yard Dairy and Paxton & Whitfield, to name but a few.
The Courtyard Dairy follows an ethos of working only with a small range of selected farms.  They work very closely with Dale End and Hafod, both of which make exceptional Cheddar, to stock the counter on a day-to-day basis, offering other Cheddars as guest cheeses from time to time.
Find out more fascinating facts about cheese – simply sign up to The Courtyard Dairy monthly newsletter for regular  exciting offers and interesting info. from the cheese-world.  Sign up here.
Related Articles