Cheddar and Beer Fondue Recipe
This dish became a much-loved favourite at The Courtyard Dairy Café.
Serves 2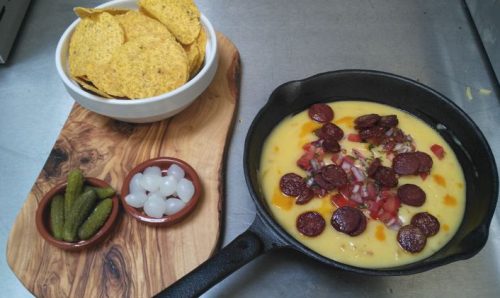 Ingredients
200g grated Cheddar (for best results use a good strong Cheddar like St Andrew's)
200ml beer (a lighter style like lager works best)
1 tablespoon of cornflour
Method
Stir the cornflour through the grated Cheddar.
In a non-stick frying pan add the cheese and cornflour mix.
Over a low heat stir in the beer and continue to mix until the mixture starts to thicken. Once bubbling, transfer the mix to a fondue pot or a really hot dish.
Be careful – as the mixture cools it will start to harden.
Serve with tortilla chips.
To make it extra special:
Serve with a fresh tomato salsa spooned over the top (dice tomatoes, add finely chopped red pepper and red onion, mix with a splash of olive oil, aged balsamic vinegar, chopped coriander leaves and a crushed half clove of raw garlic).
Add crispy sliced chorizo – cut chorizo into small segments and cook on a medium heat in frying pan (with a touch of oil) until crispy, then leave to cool on a piece of kitchen towel (this can be done in advance).
Related Articles