Cheese Scone Recipe – Courtyard Dairy Café
Kathy's recipe from the Courtyard Dairy Café's excellent cheese scones – if in doubt, add more cheese!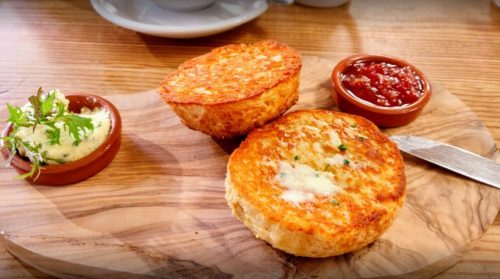 Makes approx 12 scones
Ingredients
450g self-raising flour, with 1 teaspoon of baking powder added
200g butter
Pinch of salt
250g good quality Cheddar (grated) – for best results try Hafod.
Pinch Mustard powder (optional, to taste)
Teaspoon of cayenne pepper
2 large eggs
150ml milk
Method
Rub the flour and butter together into a breadcrumb texture.
Add the salt and mustard powder, if using, and the grated Cheddar.
Mix the eggs and milk together and add to your dry mix. Add carefully – you may not need the whole of the egg mix, or you may need to add an extra splash of milk, to form a good dough texture.
Roll out the dough to half an inch thickness, then cut into rounds.
Brush each round with a little milk. Sprinkle with a little more cheese if you wish.
Place on a greased baking tray and cook for 12 to 15 minutes at 180C/medium oven.
These are lovely served with butter and an extra slice of cheese!
Related Articles