Cheese and Wine Matching – by Head Sommelier Ben Robinson of Moor Hall Restaurant with Rooms
What should I be drinking with my cheese?  It's the age-old question whenever the cheese board is pulled out…
Well, with two Michelin stars, five AA Rosettes and many other accolades including 'Restaurant of the Year 2019' (National Restaurant Awards) the team at Moor Hall know a few things about matching food and wine.  So it seemed appropriate that The Courtyard Dairy should ask Moor Hall's Head Sommelier, Ben Robinson, to find the perfect match for each style of cheese.
"It is a question I get asked daily, and unfortunately, there is no straightforward answer. There are, however, a few simple rules that will allow you to get the most enjoyment out of your cheese."
"Firstly, I propose you approach the topic with an open mind and consider that the tradition of red wine with cheese is, usually, a terrible idea! Bear that in mind and you can't go too far wrong.
As with all food and wine pairing, first you must decide what is going to be the star of the show.  If you want the cheese to stand out, you must select a wine with a little less character that will allow the cheese to shine.  If the wine is the focal point, then go easy on the cheese and select something with a little less punch."
Matching wine to hard cheese
Match crumbly-hard British-style cheeses (such as Wensleydale, Lancashire and Cheshire) with Pinot Noir, or a medium-bodied white (such as Chardonnay or Viognier).
Match Alpine-style cheeses (Gruyère, Comté, Beaufort) with a medium-bodied white (such as Chardonnay or Viognier) or a Vin Jaune.
Match Cheddar with a light- to medium-bodied red such as Rioja.
"The most accessible selection of cheese to pair with wine is hard cheese.  Most people enjoy hard cheese, and the wide variety of cheese in this section make selecting a wine relatively straightforward.  Hard cheese is the one section where suggesting a red wine would make some sense.
The tannins in a light- to medium-bodied red work well with the structure of the cheese.  Think along the lines of a lovely Pinot Noir from Burgundy or a great Rioja.  White wine should not be forgotten, though.  Aim for a more decadent medium-bodied white such as Chardonnay from Burgundy or a Viognier from the Rhone Valley."
Try these three great matches Ben suggests:
"For my specific match for northern-style crumblier hard cheeses I would recommend a great Pinot Noir such as La Rinconada Vineyard Pinot Noir from Whitcraft Winery in the Santa Rita Hills in California.  It was great with Fellstone, an excellent example of an old 'Dales' style cheese, mellow and succulent with a sharp, fresh finish."
"Summer Field is a British take on the classic alpine cheese.  It goes well with many kinds of wine, but a personal favourite would be a Vin Jaune, a style of wine found in the Jura Mountains in eastern France.  Although hard to come by, I would recommend the Vin Jaune from Philippe Bornard."
"I loved the tang of St Andrew's cheddar; and a little fruit in your wine will go a long way.  With this in mind, a great Rioja pairs beautifully.  A relatively recent discovery when I was in Rioja were the wines from Telmo Rodríguez at Bodega Lanzaga.  All the wines are beautiful and nuanced, but the standout for me was Tabuérniga – real old school Rioja with a field blend of around 13 different grape varieties. If you find some, grab it."
Matching wine to soft cheese
Match soft cheeses (such as Brie & Camembert) with a high acidity white wine like Chablis, Champagne or Gruner Veltliner.
"Soft cheese can be a tricky area, especially if you are looking for the wine to shine.  Most of these cheeses have prominent personalities with lots of flavours.  The richness and fat content of this style of cheese dictates which wine will work best.  Aim for wines with high acidity.  Think along the lines of Chablis, Gruner Veltliner or my go-to option, Champagne.  Many people often overlook Champagne when it comes to pairing wine with food, but the acidity and the bubbles work wonders with rich, creamy cheese."
Try this great match Ben suggests:
"Baron Bigod is wonderfully creamy, with a rich buttery softness towards the rind contrasted by a fresh, lactic core.  Pair this with Côte de Béchalin from Cédric Bouchard at his winery Roses de Jeanne.  A bottle of fabulous Champagne made from 100% Pinot Noir, try decanting the wine just before serving. Trust me, it works."
Matching wine to goats' and sheep's cheese
Match goats' and sheep's cheese with Sauvignon Blanc, Dry Riesling, Albariño white wines or a young Beaujolais.
"The ultimate classic pairing with French goats' cheese would have to be Sancerre.  You can't go too far wrong with this style of cheese as long as you keep the wine bright and fresh with plenty of acidity.  Think Sauvignon Blanc, Dry Riesling or Albariño.  If red is more your thing, it must be very light and fruity; a perfect example would be a young Beaujolais."
Try this great match Ben suggests:
"Hebden Goat with its creamy and smooth, rich goat flavour forms a great combo with the wines from Manuel Moldas Murana at Bodegas Fulcro in Rias Baixas.  My favourite Albariño from the estate would be Fulcro en Equilibrio."
Matching wine to washed-rind cheese
Match washed-rind cheeses to Alsace Pinot Gris or a German Gewurtztraminer.
"Some of the world's most iconic cheeses fall into this category. Whether these cheeses are famous or infamous is up to you.  Stinking Bishop from the UK, Epoisses from France (it is banned from being carried on the Paris Metro system!), and Taleggio from Italy.  These cheeses develop their unique appearance, aroma and flavour from being brushed with liquid as they age.  The liquid can take many forms but is usually either saltwater or alcohol.  Although often rather stinky, the flavours can range from mild and creamy through to robust and savoury.  This area of cheese calls for big, characterful wines, there is no room for subtlety.  Once again, the sweetness in wine can be a big help with the intense salty flavours of the cheese.  Think of an Alsace Pinot Gris or a German Gewurtztraminer."
Try this great match Ben suggests:
"St James is an incredible cheese and as it breaks down, it varies from soft with savoury, meaty flavours to firmer with a creamy, rich sweetness. A real show stopper would be to pair the St James with Helmut Lang's Sämling 88 Trockenbeerenauslese from Austria.  An excellent example of a late-harvest wine from Lake Neusiedler See, close to the Hungarian border."
Matching wine to blue cheese
Match blue cheeses (such as Roquefort, Stilton, Gorgonzola) with Port, Sauternes, Vin Santo or Maderia.
"A classic match with blue cheese, at least in the UK, is Port, which is not a bad idea.  The sweetness works wonderfully with the creamy, salty tang of a blue.  I still have memories from growing up with the adults 'feeding' a wheel of Stilton with bottles of Port in the run-up to Christmas.  Even though both cheese and wine lovers may gasp in horror at the idea of destroying two beautiful products, it will always hold fond memories.
Although Port works well, I feel as though there are other, better options out there from the world of wine.  Think along the lines of Sauternes or Vin Santo from Italy.  Or the best of the best, a vintage Madeira.  Madeira is the perfect companion for blue cheese.  Acid to help cut the creaminess, and sweetness balances the salt.  Any of the styles would work but look for a Verdelho – a little softer than the razor-sharp Sercial but not as smooth and round as Bual."
Try this great match Ben suggests:
"Young Buck is a beautifully rich and creamy blue.  As previously mentioned, a Port would work well, but I would pair this with a fantastic vintage Madeira from D'Oliveiras.  My Madeira of choice would be the 1973 Verdelho."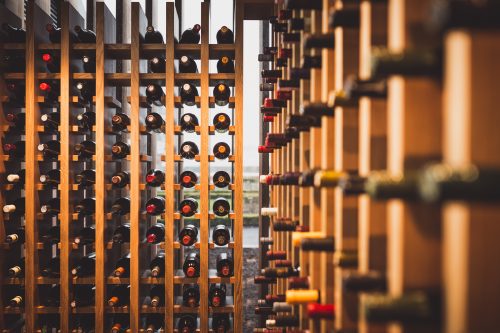 Visit Moor Hall's website to find out more about their award winning 2-Michelin-starred restaurant, Rooms and neighbourhood restaurant, The Barn >
Find out more fascinating facts about cheese – simply sign up to The Courtyard Dairy monthly newsletter for regular  exciting offers and interesting info. from the cheese-world.  Sign up here.
Related Articles