An interview with Tricia Bey: owner of Barwhey's Farm
Brief synopsis of your business & career?
Prior to setting up Barwhey's cheese I lived in London – working for many years as a management consultant and then MD of a management development business.
What made you get into doing what you do?
My husband and I used to split our time between our farm in Ayrshire and our London lives. In 2007 we moved to Scotland properly and I decided to build the dairy and set up the cheese business on a derelict section of the farm. I wanted to rekindle the art of cheese making that used to be widespread in the dairy belt of South Ayrshire but has largely been lost.
What is your philosophy for your food/business?
We aim to do everything with an eye on the traditional farming practices and cheesemaking techniques. I have built a herd of pedigree Ayrshire cows – the traditional local breed which, fortuitously, produce the most wonderfully rich creamy milk. We make cheese in the traditional way – using modern materials such as stainless steel for hygiene but otherwise being very close to time honoured cheesemaking techniques.
What's the best part of your job?
So many good moments – being up early to fetch the milk and coming across fawns on the road, seeing a 30 minute old calf getting to its feet for the first time, opening a Barwhey's cheddar and realising that it tastes completely delicious ….
When you are at home what is your staple dish for the family?
Every day in the dairy we have oatcakes and cheese for lunch (of course). Being on the west coast of Scotland we eat lots of fish in all shapes and styles.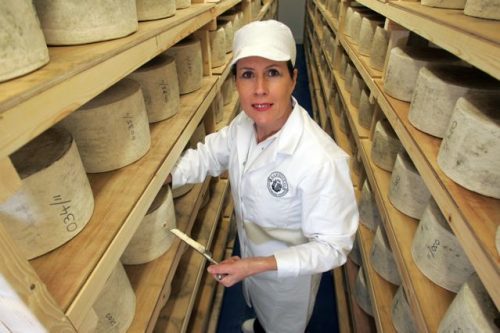 What is your favourite place to go eat (if you're not eating at yours!)?
If I'm lucky enough to be treated I'd opt for Castle Terrace in Edinburgh. It's wonderful in so many ways .
Do you have any other hidden foodie gems you think are worth people knowing about – shops, producers or otherwise?
Our local fishmonger Pieronis in Ayr won Best Scottish Fishmonger this year and has the most wonderful selection of fish. Our local butcher Dalduff has wonderful meat. These two are my absolute go-to places for all my cooking.
Do you have a favourite cheese at the moment? If so, why is it your favourite?
I've become really fussy about cheese and really intolerant of poorly kept cheese that is so often the feature of restaurant cheese boards. At their best aged gruyere and parmesan are probably my favourites alongside Montgomery cheddar – the king of cheddars – and aged Manchego …. I could go on …
If you had to choose a drink to go with cheese what would it be? and why?
We smoke some of our mature Barwheys over shavings from used whisky barrels and the smoked cheese goes fantastically with single malt whisky. Not many people think about drinking whisky with cheese but it can be a wonderful match.
What is the best success you've had with your product?
Barwhey's Cheddar won Best Scottish Cheese at the Royal Highland Show this year which was amazing given that we've only been making it for 5 years.
What are your plans for the future?
We are just down the road from where Robert Burns was born and his mother Agnes Broun made cheese. I'd really like people to think of Barwheys cheese for their Burns supper cheese boards as it is so authentically Ayrshire and so connected with Burn country.
Buy Barwhey's Cheddar online here.
Find out more fascinating facts about cheese – simply sign up to The Courtyard Dairy monthly newsletter for regular exciting offers and interesting info. from the cheese-world. Sign up here.
Related Articles