Fruitcake & Cheese
Fruitcake and cheese: a match made in heaven!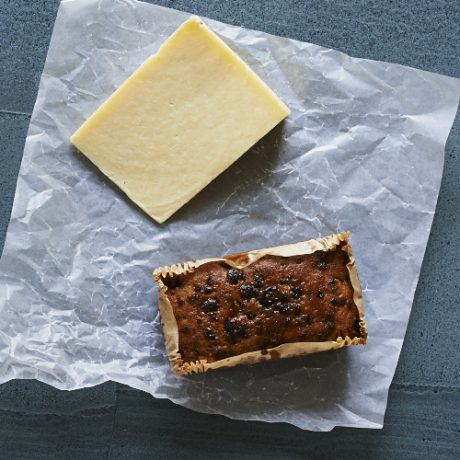 A classic tradition throughout Lancashire and Yorkshire is to serve rich, heady and dense fruitcake with a slice of fresh, zesty, creamy cheese.  It's a perfect match – no wonder it's become a tradition!
Small includes a small (400g) fruitcake and 250g Wensleydale; Large is double the size!
Full details below.
---
More about this
This cheese and fruitcake box includes:
Fruitcake.  400g / 2 x 400g
Made by Robert Didier, who trained under Raymond Blanc before setting up his own restaurant in London.  Forced to sell up thanks to a compulsory purchase order (they wanted to put a new railway line right through his plot) he decided to return north and pursue his passion of baking.  Taking a farmhouse cake recipe from the famous Mrs Kirkham (of Lancashire cheese fame) he developed this fruitcake specifically for cheese to sell on the local farmers' markets, where he often shares a stand with the Kirkham cheese-makers and Andy from The Courtyard Dairy.
This is how fruitcake should be – packed full of rich dried fruits and intense heady flavours.
Yoredale (Old Roan) Wensleydale.  Unpasteurised cows' milk, vegetarian.  250g / 500g.
Made by Ben and Sam Spence using fresh milk from local cows, they make an old-fashioned Wensleydale cheese, not quite as crumbly as its modern relations, with a fresh, sharp yet light flavour and supple creamy texture.
Fruitcake Nutritional Data (typical values, per 100g):
Energy 1442kj/343kcal
Fat 15g
(of which saturates) 6.3g
Carbohydrates 50g
Fibre 0.6g
Protein 3.8g
Salt 0.31g
Ingredients in Yoredale: Milk, salt, cheese cultures and rennet.
Fruitcake ingredients: butter (milk), brown sugar, dates, sultanas, currants, raisins, dried figs, cherries, walnuts, dried cranberries, mixed peel, wheat flour, black treacle, honey, tea, stout (wheat), free range eggs, mixed spice.
Allergens – See ingredients in bold.
This product will have two weeks' shelf life from the date of delivery.  Conveniently, at checkout you can choose a delivery date even well in the future if you would like your cheese delivering for a specific event.