Christmas Cheese Hamper
Three great cheeses and Tawny Port - perfect for Christmas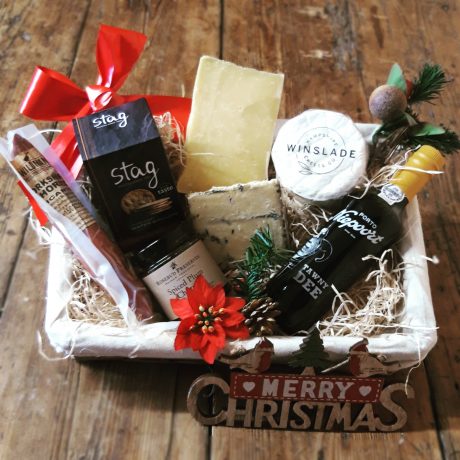 A fabulous-looking hamper with the perfect balance of cheese and port for Christmas, including powerful Cheddar, smooth, mellow blue, and oozy, soft Winslade.
Attractively presented with the best accompaniments: a fine Tawny Port, chorizo, crackers and chutney.
Full details below.
---
More about this
You must be over 18 to purchase this product.
This cheese and wine hamper includes:
Winslade. Pasteurised cows' milk.  Vegetarian.  230g.
A recent creation – a cross between Vacherin and Camembert, encircled by a spruce strip.  Winslade is matured and sold by The Courtyard Dairy when it is fully ripe, rich, soft and gooey.
St Andrew's Cheddar.  Unpasteurised cows' milk.  250g.
Jane Stewart makes cheese using rich, unpasteurised milk from her husband's cattle. This Cheddar is classically Scottish in style: aged for 14 months, it is powerful, strong and tangy – a real sharp traditional Cheddar.
Darling Blue.  Pasteurised cows' milk.  250g.
Darling Blue is a newly-created blue cheese made on Doddington farm, bordering Scotland, using milk fresh from their herd of cows.  It is firm-textured and has delicate blue veining, which breaks down the texture of the cheese to make Darling Blue smooth and creamy with a rich, complex flavour.
Yorkshire Chorizo.   Approx. 100g.
Chris Wildman's family have been butchers since the 1800s.  Taking the business in a new direction, Chris farms high up in the Yorkshire Dales at Kirkby-Malham, whilst also producing this spicy chorizo using his own (and local Yorkshire) pork.
Spiced Plum Chutney.  198g.
This dark, richly-spiced chutney has notes of plum and clove, ginger and allspice with a gentle acidity and sweetness that helps cut through even the richest of cheeses.
Water Crackers.  100g.
A neutral water cracker that is deliciously crisp and toasty.  A perfect accompaniment to any cheese.
Niepoort Tawny-Dee Port.  19.5% abv.  375ml.
The Niepoort family has been making port since 1842.  Dirk Niepoort uses only the finest estate-own grapes that still handpicked and trodden by foot; their Tawny-Dee Port is exceptional.  Supplied and selected by Buon Vino.
All packed in the attractive wicker hamper, included as pictured.
** Tree, 'elf on shelf' and Christmas decorations not included **
This product will have two weeks' shelf life from the date of delivery.  Conveniently, at checkout you can choose a delivery date even well in the future if you would like your cheese delivering for a specific event.
This wine is sold and dispatched by Buon Vino at the same time as your cheese.
Ingredients in cheeses: Milk, salt, cheese cultures and rennet.
Ingredients in water crackers: Wheat Flour, Water, Rapeseed Oil, Skimmed Milk Powder, Sugar, Salt.
Ingredients in Spiced Plum: Ingredients: Plums (49%), onions, apples, raisins, unrefined sugar, malt vinegar (barley), fresh garlic, sea salt, ground ginger, allspice, ground cloves, cinnamon.
Ingredients in Wine: Contains sulphites
Ingredients in Chorizo: British pork, salt, smoked paprika, cayenne pepper, black pepper, paprika extract, garlic, preservatives – sodium nitrate and nitrate