Father's Day 'Best Of' Cheese Selection
Different, unique and full of flavour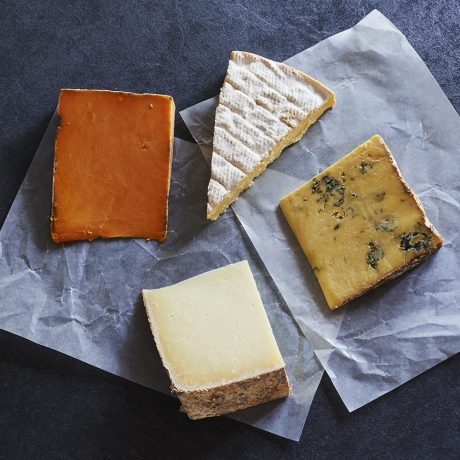 These real crowd-pleasers will keep any dad happy this Father's Day.  Four outstanding cheeses showcasing the very best of Britain; featuring the rich but mellow Darling Blue, strong and tangy Berwick Edge, oozy Baron Bigod British Brie and the all time classic, Appleby's Cheshire.
Don't like blue cheese?  Choose the 'No-Blue' option from the drop down menu.
And if you want to really treat your dad, order a 'beer-matching pack' here >
---
More about this
This Father's Day cheese selection box includes:
Appleby's Cheshire.  Unpasteurised cows' milk.  250g.
There is a reason that this has been made since 1952 by the same family, in the same time honoured way… it's exceptional, tasting buttery-rich with a delicate crumble and a fresh-acidity.  The current custodians of this classic cheese, Sarah and Paul Appleby, have excelled in not only keeping traditional farm-made Cheshire alive but also, under their care, their meticulous attention to detail and small tweaks to their farming practices and cheese-making have helped further to improve it.
Baron Bigod Brie.  Unpasteurised cows' milk.  250g.
Sold only when perfectly ripe, this modern creation is Britain's first unpasteurised Brie to be made on the farm in traditional large (3 kg) form and ladled only by hand. The French will be jealous…
Berwick Edge.  Unpasteurised cows' milk.  250g.
Berwick Edge is Northumberland's version of aged Gouda offset by the tang of a mature Cheddar. It is made by hand by the Maxwell family, following traditional Dutch methodology, using fresh raw milk from their own herd of cows.  Aged for a full year, Berwick Edge develops a strong, sharp flavour, complemented by a caramel sweetness and crystalline texture.
Darling Blue.  Pasteurised cows' milk.  250g.
Darling Blue is a newly-created British blue cheese made on Doddington farm bordering Scotland, using milk fresh from their herd of cows.  It is firm-textured and has delicate blue veining, which breaks down the texture and flavour of the cheese to make Darling Blue smooth and creamy, with a rich, complex flavour.
This product will have two weeks' shelf life from the date of delivery.  Conveniently, at checkout you can choose a delivery date even well in the future if you would like your cheese delivering for a different event.