Father's Day Cheese Selection
Different, unique and full of flavour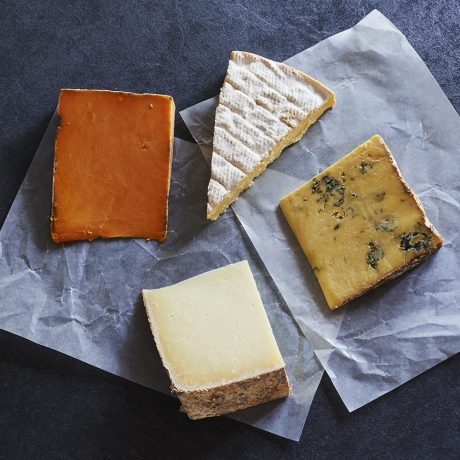 Four outstanding cheeses to showcase the very best of Britain and Ireland this Father's Day: the soft, 'buttery' Rollright, tangy and powerful Sparkenhoe, Ireland's answer to Manchego, Cáis na Tíre, and Devon Blue, a modern British blue, minerally and gently piquant.
---
More about this
This Father's Day cheese selection box includes:
Rollright.  Pasteurised cows' milk.  250g.
A mellow, buttery, 'washed-rind' cheese that expresses the rich and diverse clover pasture of Chedworth's Manor Farm.  It is based on the classic French cheese Reblochon and encircled in a spruce band that helps hold it together and adds a pine-y note to the cheese.
Sparkenhoe Mature.  Unpasteurised cows' milk.  250g.
The only unpasteurised farmhouse Red Leicester made in the world.  This Sparkenhoe mature version is aged for 18 months, which gives it a strong, powerful flavour.
Devon Blue.  Pasteurised cows' milk, vegetarian.  210g.
Devon Blue was one of the first modern British blue cheeses, created by Robin Congdon in the 1970s.  Unpressed, French-style, it is sold by The Courtyard Dairy at four months old, when it is flinty, minerally and light with a subtle blue taste.
Cáis na Tíre.  Pasteurised sheep's milk.  250g.
Barry & Lorraine Cahalan make this unique cheese with sheep's milk from on their small farm in County Tipperary.  Cáis Na Tíre is aged on-site until it's six months old.  At this age it develops rich, toasty and caramel notes as the sweetness of the sheep's milk starts to display: like the finest aged Pecorino and Manchego of the Continent.
Cheese care and shelf life:
This product will have two weeks' shelf life from the date of delivery.  Conveniently, at checkout you can choose a delivery date even well in the future if you would like your cheese delivering for a specific event.