Father's Day 'Best Of' Cheese Selection
Different, unique and full of flavour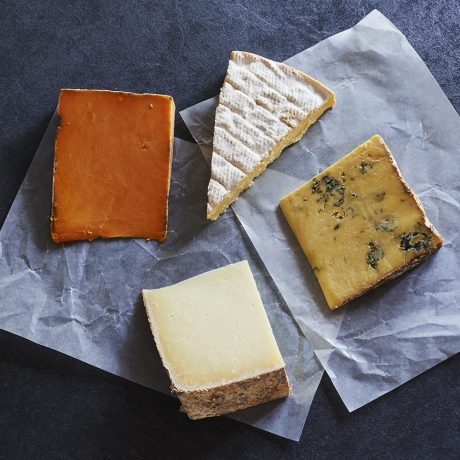 Unfortunately this product is currently unavailable – but instead you may like The Best Sellers Collection
These real crowd-pleasers will keep any dad happy this Father's Day.  Four outstanding cheeses showcasing the very best of Britain; featuring the traditionally made Wensleydale – Yoredale (Old Roan), the strong and powerful Red Leicester, oozy Baron Bigod British Brie and the smooth and creamy Young Buck.
Don't like blue cheese?  Choose the 'No-Blue' option from the drop down menu.
And if you want to really treat your dad, order a 'beer-matching pack' here >
---
More about this
This Father's Day cheese selection box includes:
Yoredale (Old Roan).  Unpasteurised cows' milk.  250g.
In 1957 the single last farmer producing Wensleydale cheese in the Yorkshire Dales gave up. Over 50 years later in July 2019, third generation dairy farmers, Ben and Sam Spence re-started that tradition in the heart of Wensleydale.  Using fresh milk from local cows, they make an old-fashioned Wensleydale cheese, not quite as crumbly as its modern relations, with a fresh, sharp yet light flavour and supple creamy texture.
Baron Bigod Brie.  Unpasteurised cows' milk.  250g.
Sold only when perfectly ripe, this modern creation is Britain's first unpasteurised Brie to be made on the farm in traditional large (3 kg) form and ladled only by hand. The French will be jealous…
Sparkenhoe Vintage.  Unpasteurised cows' milk.  250g.
The only unpasteurised farmhouse Red Leicester made in the world.  This Sparkenhoe Vintage is aged for 14 months which gives it a strong, powerful flavour.
Young Buck.  Unpasteurised cows' milk.  250g.
Young Buck is based on an old text on Stilton that Mike found.  Different from modern-day Stilton, it is made outside the region with unpasteurised milk, a slow-gentle acidification of the curd and hand-ladling, but it retains some similarities – rubbing up, hastening (to encourage a ruby-red yeast rind) and piercing late to encourage blueing.  It is then aged for 12-15 weeks before being split and sold by The Courtyard Dairy only at its peak
This product will have two weeks' shelf life from the date of delivery.  Conveniently, at checkout you can choose a delivery date even well in the future if you would like your cheese delivering for a different event.