Unpasteurised and Raw Milk Selection
All raw milk, all brilliant.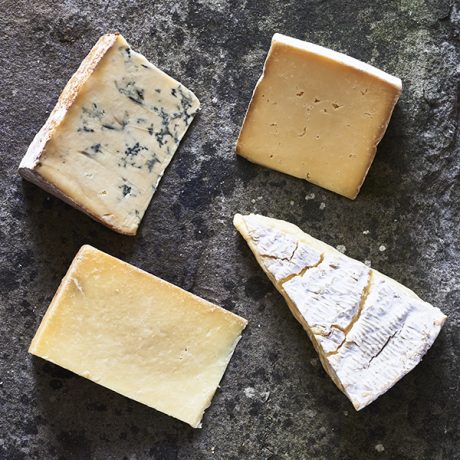 Britain's finest raw- and unpasteurised-milk cheeses, including the pungent washed-rind St James, powerfully strong Cheddar, zesty and fresh Dales-style, and a classic blue that leaves other blues wanting.
Full details below.
---
More about this
This selection of raw- and unpasteurised-milk cheeses includes:
Fellstone. Unpasteurised cows' milk. 250g.
Tom and Clare Noblet started to make cheese in 2015 on their dairy farm on the edge of the Lake District. Based on a traditional old 'dales' recipe of the north of England, Fellstone is aged for three months by which time it has the fresh lemony-lactic flavours of a good Wensleydale, with a supple, firmer texture.
St James.  Unpasteurised sheep's milk.  200g.
An unusual find: a washed-rind sheep's cheese. The flavoursome milk of the Lacaune breed of sheep produces savoury, meaty flavours with a creamy, rich sweetness as St James breaks down. (When St James is out of season (November to April) this will be replaced with an alternative washed-rind cheese such as Rollright; a soft cows' milk cheese from the Cotswolds.)
St Andrew's Cheddar. Unpasteurised cows' milk. 250g.
Jane Stewart makes cheese using rich, unpasteurised milk from her husband's cattle. This Cheddar is classically Scottish in style: aged for 14 months, it is powerful, strong and tangy – a real sharp traditional Cheddar.
Young Buck Blue. Unpasteurised cows' milk. 250g.
An outstanding raw-milk blue cheese from Northern Ireland. Using old-fashioned British blue cheese recipes from the turn of the 19th century, Young Buck cheese is traditionally made and hand-ladled to produce a rich, lingering flavour. An impressive debut cheese.
This product will have two weeks' shelf life from the date of delivery. Conveniently, at checkout you can choose a delivery date even well in the future if you would like your cheese delivering for a specific event.
In the current pandemic not all our suppliers are able to supply us as consistently as they were.
What this means is that occasionally we may give you a substitute in some cheese selections.  This will always be a carefully-selected similar cheese of equal or greater value.
If you do not want us to supply a suitable substitute in this way, state in the 'special instructions' at checkout: "No replacements", in which case we may have to phone you if there is an issue.