Elrick Goats' Log
Delicate with a creamy-moussey texture and rich, herbaceous goat flavour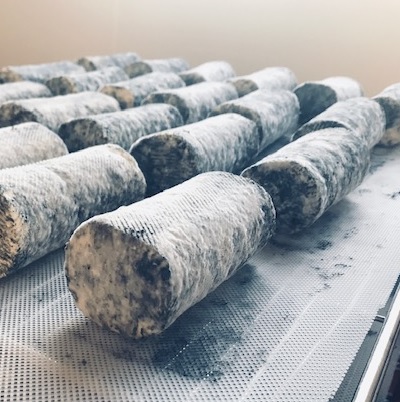 Unpasteurised
Goats' Milk
---
This cheese is currently maturing, Why not try the similar Sinodun Hill?
Scotland's newest cheese. The Erringtons bought 100 goats in Summer 2019 and developed this goats' cheese log to go alongside their famous sheep's cheeses. Fresh raw milk straight from the goats on their farm is set delicately before being gently ladled by hand, so Elrick retains a rich creaminess as it matures and develops its herbaceous goaty flavour.
Made by Selina Errington in Carnwath, near Edinburgh, Lanark, Scotland.
---
More about this
In the early 1980s Humphrey Errington took on a smallholding just south of Biggar, not far from Edinburgh. Wanting to recreate a cheese traditional to the area, he discovered that sheep's milk rather than cows' milk was more commonly found in the rugged landscape. He travelled to France to find finest dairy sheep, the Lacaune breed (also used to produce Roquefort), so he could import some and set about creating an unpressed blue cheese.
The cheese he created, Lanark Blue, was quickly established and soon became a well-known classic throughout Scotland, whilst Humphrey became an important figure on the Scottish cheese scene through helping to keep unpasteurised cheese available. In the early 2000s, Humphrey's daughter, Selina, and her husband, Andrew took over the day-to-day farming and cheese-making. They built on Humphrey's success and developed other cheeses to showcase the brilliance of their sheep's milk.
But milking sheep has its disadvantages, especially as they 'dry off' throughout the winter (ready for the spring lambing), which meant that during the long winter months the Erringtons had no work for their staff, and no income stream. So in August 2019 Selina and Andrew bought 100 dairy goats from a high-welfare farm in Yorkshire (a hotchpotch selection of breeds – Sannen, Toggenburg and Alpine), and set about developing a range of goats' cheeses they could make in the winter (goats can be milked all year round).
Elrick Log is one of these creations, made to a traditional French-lactic recipe, this involves a long (24 hours) setting of the curd before being gently hand ladled into tube moulds which allow it to retain its soft creaminess. It is then dusted with edible ash on the outside, and as it matures (over three weeks) forms a wrinkly Geotrichum-yeast-like rind which intensifies its herbaceous flavour.
This product will have two weeks shelf life from the date of delivery. Conveniently, at checkout you can choose a delivery date even well in the future if you would like your cheese delivering for a specific event.
Nutritional Data (typical values, per 100g):
Energy 1082kj/261kcal
Fat 21.4g
(of which saturates) 15g
Carbohydrates <2.7g
(of which sugars) <1.4g
Protein 14.4g
Salt 1.25g
Weight: 1 x 190g cheese.