Berwick Edge
Caramelly, crystalline and sharp.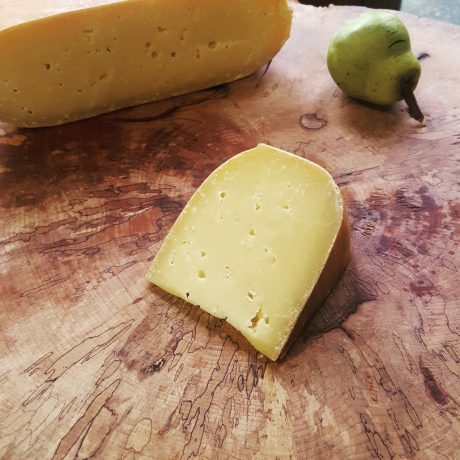 Unpasteurised
Cows' Milk
Suitable in Pregnancy
---
Berwick Edge is Northumberland's version of aged Gouda. It is made by hand by the Maxwell family, following traditional Dutch methodology, using fresh raw milk from their own herd of cows.
Aged for a full year, Berwick Edge develops a strong, sharp flavour, offset by a caramel sweetness and crystalline texture.
Made by Maggie Maxwell in Wooler, Northumberland, England.
---
More about this
Doddington Farm is run by the Maxwell family. In the 1950s the family moved from their tenanted farm in west Scotland and bought the tenancy of the small Doddington Farm from the Admiralty, situated on a rural outcrop of England overlooked by the Cheviot Hills. In the late 1980s the next generation started running the farm and soon started experimenting with cheese-making.
Nowadays one Maxwell brother, Bob, looks after their 400 Ayrshire, Friesian and Normandy cows, milking them every morning.
The fresh milk is piped across the yard to their dairy every morning and, still warm, some is turned into ice-cream production by another brother, Neil, and his wife Jackie, and the rest is used by their sister, Maggie, to turn into a range of cheeses – 'Doddington' and 'Admiral Collingwood' perhaps being the most famous.
Berwick Edge was the first cheese the Doddington family developed in the late 1980s. After having several visits from agricultural and veterinary students from the Netherlands (who get the ferry over to nearby Tynemouth port), the Maxwell family then returned the favour and went to visit their new acquaintances, some of which were Dutch cheese-makers! Hence Berwick Edge was born, based on Netherlands-style cheese, particularly Gouda, which involves cutting the curd and stirring vigorously to produce a dry texture, then placing it straight into moulds before pressing and submersing it in brine to salt.  This recipe gives it a stable, nutty cheese and a sweet crystalline note.
This product will have two weeks shelf life from the date of delivery.  Conveniently, at checkout you can choose a delivery date even well in the future if you would like your cheese delivering for a specific event.
Ingredients: Milk, salt, cheese cultures and rennet.