Barwhey's Cheddar
Tangy, complex and full-flavoured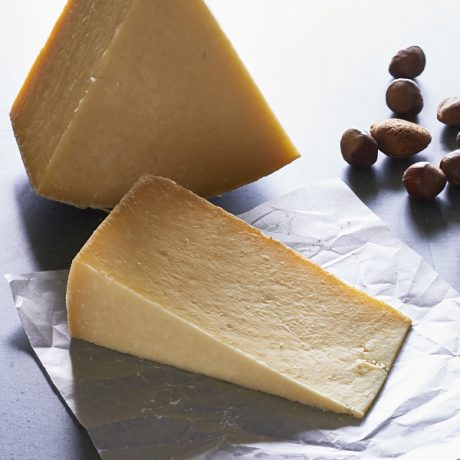 Unpasteurised
Cows' Milk
Suitable in Pregnancy
---
Unfortunately Barwhey's Cheddar is no longer made, if you liked it why not try this Ayrshire Cheddar instead: Hafod.
Tricia makes cheese with rich, unpasteurised milk from her 36 Ayrshire cattle, after building up the herd and dairy from scratch in 2008.  This Cheddar is fast becoming renowned for its complex and long flavours.  Aged for 14 months, it is tangy, rich and shows just how good farmhouse Cheddar can be!
Made by Tricia Bey at Maybole (near Ayr), Ayrshire, Scotland.
---
More about this
After 30+ years working in London to become a high-flying partner in Deloitte, commanding a six-figure salary, Tricia's life took an about-turn when her husband was relocated to Scotland.  Following him in 2005, they settled together on the derelict Barwheys farm.  And Tricia's new project began.
Restoring the farm to its former glory (Robbie Burn's family farm was near here and also used to make cheese), she repopulated the small farm with the traditional native breed of cow, Ayrshire, known for their hardiness and rich quality of milk.
The 36 cows are fed out at pasture for as much of the year as possible and Tricia utilises their superior quality of milk to make a small amount of unpasteurised, cloth-bound Cheddar.  It is aged for 12 months and the first batch was sold in 2010.  It is tangy and rich and shows just how good farmhouse Cheddar can be!  All credit to Tricia – she has recreated farmhouse cheese making at its best.
This product will have two weeks shelf life from the date of delivery.  Conveniently, at checkout you can choose a delivery date even well in the future if you would like your cheese delivering for a specific event.