Pitchfork Cheddar
Tangy, savoury and full-flavoured.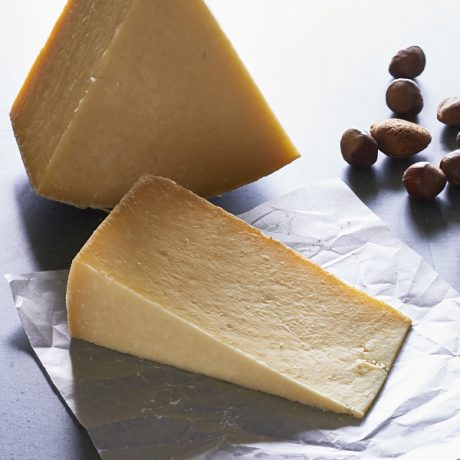 Unpasteurised
Cows' Milk
Organic
---
This is currently maturing, if you want to try something similar try Hafod.
This one-year-old Cheddar is tangy, savoury and full-flavoured.  It's made at Puxton Court Farm in the heart of Somerset, following age-old Cheddar making techniques which include using traditional cultures, 'Cheddaring' by hand, and cloth-binding.
This is Cheddar as it should be – there's no-wonder it has won so many awards, including Best British Cheese and Best Cheddar at the 2019 World Cheese Awards.
Made by Todd and Maugan Trethowan in Puxton, Somerset, England.
---
More about this
In the 1990s farmhouse-Cheddar-maker Chris Duckett taught Todd Trethowan how to make Cheddar and Caerphilly.  Soon afterwards, Todd and his brother Maugan moved to Wales to restart production of traditional Welsh Caerphilly, where they created the (now) famous Gorwydd Caerphilly.
In 2014 Todd returned the production of their Caerphilly (Gorwydd) to Somerset, almost completing the circle by setting up not too far from Chris Duckett's original farm.  Ever in the search to make the absolute best Caerphilly, the Trethowan brothers discovered that Puxton Court Farm, near Weston-Super-Mare, was producing a brilliant quality of milk.  So they relocated there to further improve their Gorwydd Caerphilly.
Soon after, they decided to make another cheese on the farm to go alongside their famous Caerphilly… Cheddar.  Following traditional techniques handed down by Somerset Cheddar makers, they use old-fashioned bacterial cultures, 'Cheddar' by hand, and cloth-bind each cheese, before carefully maturing them for over a year.
This product will have two weeks' shelf life from the date of delivery.  Conveniently, at checkout you can choose a delivery date even well in the future if you would like your cheese delivering for a specific event.