Westcombe Cheddar
Tangy, savoury and full-flavoured.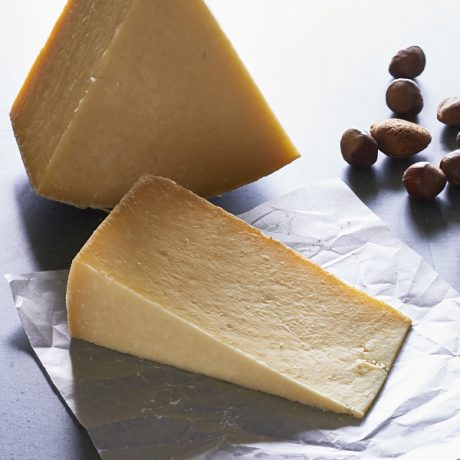 ---
This is currently maturing, if you want to try something similar try Hafod.
This one-year-old Cheddar is tangy, savoury and full-flavoured.  It's been made on this farm in the heart of Somerset for over 100 years.  The Calver family still follow age-old Cheddar making techniques which include using traditional cultures, 'Cheddaring' by hand, and cloth-binding before ageing for over a year.
Made by the Calver Family on their farm in Evercreech, Somerset, England.
---
More about this
Cheese has been made at this family farm since the 1890s and the Calver family have continued that legacy. They farm two farms with 400 cows and make unpasteurised Cheddar daily, using methods passed down over many generations.
They briefly flirted with mass-produced 'block' Cheddar before returning to the traditional ways in the 1990s.
Tom Calver, who as a young boy swore he'd never return to make cheese, is the most recent generation working in the dairy and it is under his guidance the cheese has gone from strength to strength as he returned to traditional methods. As part of this he adjusted the recipe and refined the maturing; and they now exist as only one of three Cheddar makers left in Somerset still made by hand on the farm using raw milk, traditional cheese cultures and natural cloth rinds to mature.
At the same time his father, Richard, has worked on improving the quality of the cows feed (to get a better fat and protein content).
In recent years they've built a brand new maturing cave – removing a whole hill, building a cave under it and placing the hill back on top. A big feat, but it stays cool naturally. Part of it was done to install a robot to assist them with turning the cheese during maturing (a back breaking task); the robot is doing a fantastic job.
This product will have two weeks' shelf life from the date of delivery.  Conveniently, at checkout you can choose a delivery date even well in the future if you would like your cheese delivering for a specific event.