Oatcakes
Nutty, smooth oat-crunch.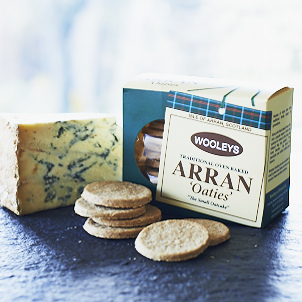 Isle of Arran Oaties are the perfect oatcakes to go with cheese, with a crisp crunch and rich, nutty, caramelised flavour.  Oatcakes made in the traditional way and baked by hand by Wooley's in Scotland.
Made by the Keir family in Brodick on the Isle of Arran, Scotland.
---
More about this
Located on the beautiful windswept Isle of Arran, Wooleys produce some of the finest oatcakes to be made in Scotland.  Wooleys has existed as a craft bakery since the mid 19th-century, but in the 1980s it looked like their remoteness, and a ferry journey away from the mainland, meant that like many of the Scottish island businesses it looked like Arran's last traditional craft bakery was about to go out of business.
Not wanting that to happen, Lindsay Keir, a local Arran man, took over the bakery and concentrated his efforts on creating a true artisan bakery.  Specialising in oatcakes, the bakery now hand-bakes some of the finest oatcakes to be found anywhere: delightfully crisp, with a sweet crunch.
Lindsay, and his son, Matt, also created a sister to their famous original Oaties, made with only bran flour for a coarser texture.
Nutritional Data (typical values per 100g)
Energy 421Kcal/1763kJ
Protein 8.7g
Carbohydrate 54.4g
of which sugars 3.1g
Fat 22.9g
of which saturates 6.2g
Dietary Fibre 5.9g
Salt 1.7g
Ingredients: Oatmeal (59%) (contains Gluten), Wheat flour, Vegetable Fat (Palm and Rapeseed), Brown Sugar, Raising Agents (Bicarbonate of Soda, Cream of Tartar), Salt.
Allergens – See ingredients in bold.
Sold in: 1 x 180g pack.