Five Friends Cider
Juicy, sweet and sharp with a smoky note.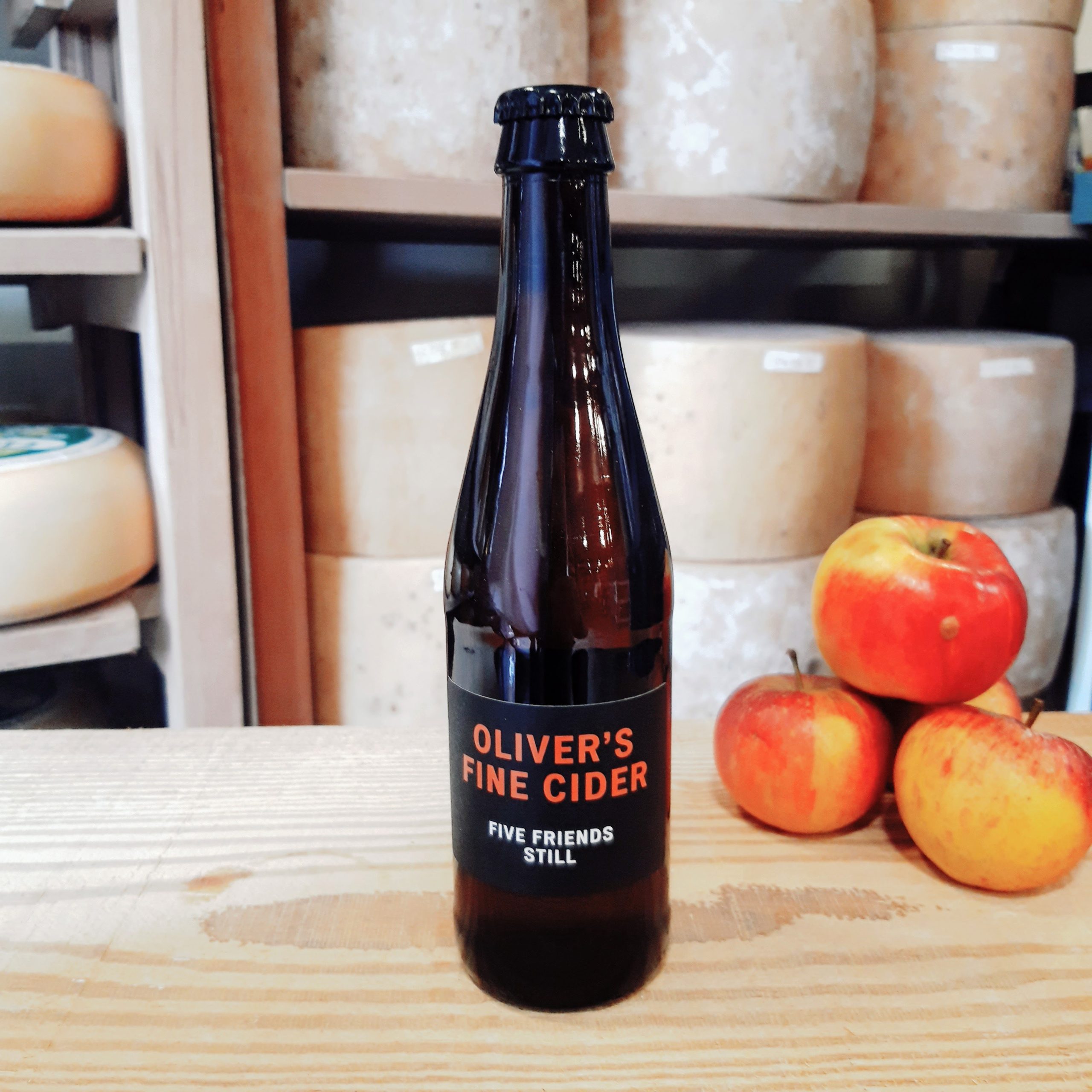 A blend of master-cider maker Tom Oliver's five favourite cider apples with fermentation partly in oak barrels to give a smoky-undertone.
Balancing different cider apples for sharpness, freshness, sweetness, fruit flavour, tannins and acidity allows Tom to create a special full-bodied cider with an incredible depth of complex flavours.
Very drinkable.
The richness and balance of this moreish cider can stand up to the strongest of hard cheeses (e.g. Doddington) and soft pungent cheeses like Tunworth Camembert and St James.
Made by Tom Oliver in Ocle Pychard, Herefordshire, England.
---
More about this
The blend consists of Kingston Black at (60%, bittersharp), Michelin (18%, soft bittersweet) , Yarlington Mill and Dabinett (9% each, bittersweets) and Foxwhelp (4%, sharp).  80% tank fermented and 20% barrel fermented and matured.
Key to the blend is a Dabinett juice matured in old-whisky barrels, with the oak imparting a smoky richess and micro-oxidation (although some of the apple fruit phenolics he uses also give a smoky flavour too) and the foxwhelp apple which gives a sharpness to balance the tannic, bold nature.
Tom Oliver's family farm has grown cider apples for generations. For many years the apples were sold to Bulmer's, a large cider producer nearby. But after disagreements on apple price the family moved away from selling cider apples and into growing hops. Tom was relegated to making cider using local apples just for family and friends.
Leaving the family farm he want off to study music and became tour manager for The Pretenders and later The Proclaimers (he's still their tour manager to this day which he fits around farming and making cider!). But as with everything family draws you back and in 1999 he moved back to Herefordshire and persuaded his Mum to let him have a go at making cider commercially using apples from their farm and five surrounding orchards.
Tom's attention to detail, palate for blending and steadfast attitude to quality meant Oliver's Cider soon became known as one of the very best ciders in the world and Tom regarded as a bit of a cult hero for helping put quality cider back on the map.
Tom's cider's are made with 100% apple or pear juice (commercial cider and perry only has to have 30% juice!) and although there are over 60 varieties of apple's he used, the principal elements within all his ciders revolves around the Michelin, Dabinett, Foxwhelp, Yarlington Mill and Kingston Black, and for his Perrys he uses 50-year old trees and principally perry pears varieties: Blakeney Red, Red Longdon, Gin & Butt, Oldfield. After picking in the autumn the apples  and pears are left to sweat a few weeks (shrivel and loose moisture) before being crushed and pressed in a belt press. Using the yeast naturally from the fruit and the local atmosphere, the juice is then left to wild ferment through the winter in a variety of tanks, vessels and casks.
In the spring the various juices (from different apples/pears, orchards and fermentation tanks) are then tasted and blended to produce a range of different ciders and perrys.
You must be over 18 to purchase this product.
330ml.  6.8% abv.