Virtuous Session IPA
Crisp and citrusy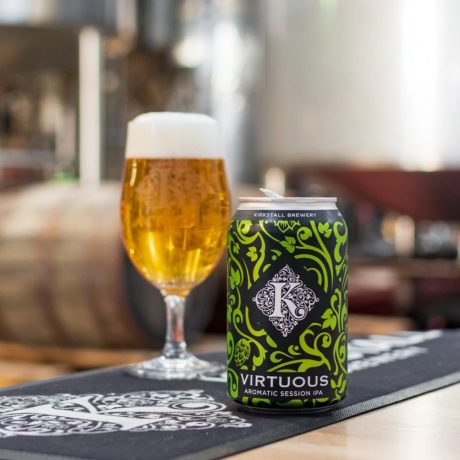 This session IPA has become Kirkstall's flagship beer for a reason. With a refreshing tropical citrus aroma and a medium-light body, it is a very easy-drinking session IPA brewed in the heart of Leeds.
Made by Kirkstall Brewery in Leeds, West Yorkshire.
---
More about this
Kirkstall Brewery takes its name from the original brewery (now student halls) just down the road that started brewing beer in 1871.
The brewery has been operating since 2011 in its current incarnation and was born out of the American IPA beer evolution that started to take the UK by storm at that time. Starting out as importers in 2003, brewery owner Steve Holt and managing director John Kelly started importing the now-famous style of hoppy, citrus-led American IPAs to the UK (they were the sole distributors of the iconic Sierra Nevada) and soon became famous for their range of quality American beers.
As their love for beer intensified they decided to start a brewery and import the hops so they could have go at making their own versions of the American product they'd been selling for so long.
Hence importers became brewers, and naturally, they soon bought pubs in which to sell their beers, thus completing the whole circle.
When Coronavirus hit, faced with a glut of beer that would normally be sold draught in their own pubs in Leeds, they hastily put a canning line into the brewery so they could sell direct to the public. And with it, the opportunity to try more of their fabulous beers from the comfort of your own home became a reality.
You must be over 18 to purchase this product.
330ml.  4.5% abv.
Ingredients: contains barley & wheat