Highmoor
Supple, brothy and meaty.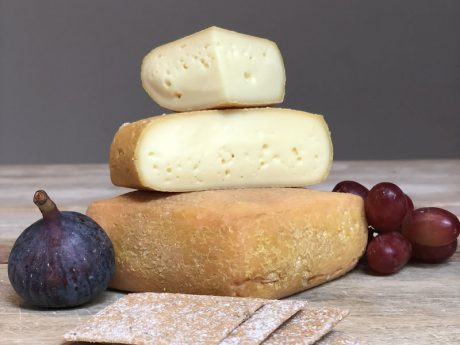 Cows' Milk
Organic
Pasteurised
---
Highmoor is a supple washed rind cheese, not dissimilar to the classic French cheeses of Livarot and Pont L'Eveque.  Washed to encourage the ruby-red rind it has savoury, meaty flavours and a supple, giving texture.
Made by Rose Grimond & Team, near Henley on Thames, Oxfordshire, England.
---
More about this
Rose grew up on the Nettlebed Estate: a 2,000 acre family estate owned and ran by her Mother and Aunt, which has been in her family, The Fleming Family – of James Bond fame – for 100 years.
Yet she migrated to London to become first an actress, before ex-offender worker and then Borough Market stall holder, specialising in selling Scottish produce.
When the future of the dairy farm came up for discussion, Rose decided the time was right to move back and help make the farm viable. Becoming organic, they seeded complex herbal leys for better soil and pasture and reduced cow numbers from 500 high-yielding to 130 mixed breed cows (they have Friesian, Swedish Red and Montbeliarde) for quality milk. This quality milk was then destined to be made into cheese, and in 2015 the dairy was completed, complete with eco friendly woodchip boiler and solar panels.
Several cheeses have been developed, all named after their local landmarks (Bix Village, Highmoor town and Witheridge Hill). They are all superb examples of their diverse pasture, milk quality and the hands-on traditional French approach they use to cheesemaking.
Highmoor is their supple washed rind cheese, not dissimilar to the likes of Livarot and Pont L'Eveque. Made using whole milk the curd is hand ladled and drained to produce a firmer paste that breaks down over the 5 weeks it is matured. Washed frequently it develops the orange-rind associated with these 'washed-rind' cheeses and rich flavours. Only developed in August 2018, this really is the new kid on the block!
This product will have two weeks shelf life from the date of delivery.  Conveniently, at checkout you can choose a delivery date even well in the future if you would like your cheese delivering for a specific event.
Nutritional Data (typical values, per 100g):
Energy 1425kj/345kcal
Fat 30.6g
(of which saturates) 20g
Carbohydrates 1.1g
(of which sugars) <1.1g
Protein 14.8g
Salt 1.7g
Weight: 1 x 300g cheese.